So round 3 took us back to Crychan Forest. We stopped here for a round in the 2014 series, when the stages contained lots of rocky tracks and some bits of freshly cut trails. Would the balance still be heavily in favour of the existing rocky tracks? Or have the Redkite Team been slaving away for the last few months building some of the maddest, baddest trails I've ever had the privilege to ride? I think you may know the answer already….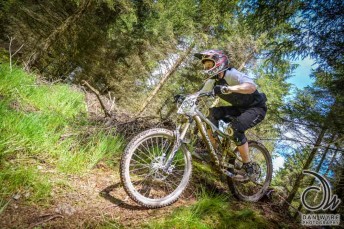 Bank Holiday traffic meant I arrived late, literally as practice was starting. As we only had a 2 hour practice slot, I quickly signed in, slapped my number on the bike and felt very grateful to find my partner in crime for the weekend; Sandy Stewart, still waiting for me. Mumbling my apologies for lateness, blaming holiday makers and Roadies in equal measure, we peddled off in search of stage 1.
As I quickly recalled last year's stages to Sandy (loose rock, bedrock, fast, disengage brain kind of riding), we found the start of stage 1, on a fire road. Goggle & glasses on (depending how enduro you are) and we set off down the fire road. It was very reminiscent of last year's stages; loose rock, bedrock and very fast. After a combination of lengthy rocky tracks, losing a lot of height, it turned off down a steep, narrow goat track that was rutted out, to a stream crossing for the finish. Nothing too technical, just a bit like trying to go as fast as possible whilst riding on a bucking bronco!
Up to stage 2 and it couldn't have been more different. Straight out onto a fresh loam trail, starting off quite flat, swerving round trees, dodging stumps and hopping over roots. Stopping to take a peek at a tasty drop, which had a 90 degree right-hander going in, a 6 foot near vertical drop, then a 90 degree left-hander immediately after. The exit contained a high line skimming some trees with masses of roots, or alternatively, the tight low line with ruts. With Simon Nash's voice in my head saying 'Don't be a sheep' I saw The Line. I decided to do a straight line between the trees, which meant going off the drop at a dodgy angle, then continuing in the ruts on the low line. Yeah well, that was how it played in my head. In practice, at the bottom of the drop I burped the front tyre on some rocks (where did they come from?) and ended up sliding down the rut, face buried deep in the mud. As I was such a cool cat and didn't want to wear a backpack, I then had to sit and wait for somebody to come past with a pump. Whilst waiting, Sandy showed me how to do it properly (don't straight line it, high line out), I decided I would just copy him, which worked out well.
The rest of the stage was very similar, lush loamy corners, masses of roots and a techy drop with lots of roots at awkward angles on the lip which made us stop for a look. It's great being able to do a practice run so you can look before you leap!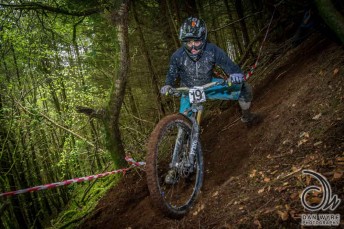 Peddling up to stage 3, we certainly had plenty to talk about; would this be the most technical stage of the weekend or did the Redkite guys have something else hidden up their sleeves? Bumping into Neil on the climb, he laughed when we asked him if stage 2 was the most technical stage, "You'll want to go have a look a stage 3 then". Kyle the Trail building wizard was at the fire road crossing of stage 3. He started grinning when we asked him what it was like. This could be interesting then. We decided to go from this point rather than the start; I recognised the top section from 2014 and knew it wouldn't pose too many problems.
Dropping in, it soon got down to business. Steep, off camber traversing lines (with plenty of roots obviously) then a ridiculously steep left hand switchback. I stopped to have a look at line choice and realised there was about 6 switchbacks in a row down the side of the hill. Now, this hill was super steep, on loamy soil which just got dragged around, some corners were dragged out in the middle, making the nose point straight down for far too long for my liking. Mental. Having not ridden anything quite as lairy as this, I jumped back on the bike. Trying to get the bike moving again whilst trouser tenting out the front and turtle heading out the back, knees knocking in the middle I wobbled off down the hill. Somehow, I managed to go round them without too much drama, the odd drag of the foot here and there, but I was almost in control. Even James Scott would be proud.
Further down the trail, there was another big steep drop, just about rollable with your bum buzzing the back tyre, then more of these loamy switchbacks. Here I got caught out. Thinking I had this great line, I didn't see the tree stump jump out at me until it was too late. Cue Superman impression number 2. Finally making to the bottom, I couldn't quite decide if I had just ridden the best trail of my life, or the scariest, or what. But one thing's for sure, I was buzzing and couldn't wait to race it!
Time was getting on. We had to make a decision on whether to do stage 3 again, to link it all up in one run, or have a bash at stage 4. There wasn't enough time to do both. There were rumours about a drop in the middle of 4 that was a bit loopy, so we decided to go and see what the fuss was about.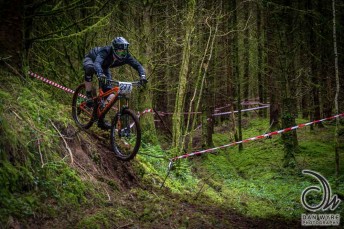 Stage 4. The top was roughly following a worn track through the trees, some interesting taping meant you had to keep your head up as you never quite knew where you were going. Although this was cut through the trees, a la off piste some would say, the ground was firm and compacted, which kept the speeds up and gave it some flow. Cutting across the fire road, we soon saw the rumoured drop. A small queue had formed whilst somebody picked themselves off the dirt at the bottom. Steep, loose loam and a 90 degree left-hander at the bottom made it very tricky indeed. I got down it fine, but ended up going into the corner skiing behind the bike, not quite pro just yet then! The rest of the stage was great; lots more roots, techy corners and lush loam! A short rocky singletrack sprint mixed it up a bit, then across a bridge to the finish. Another Brilliant stage!
Time to go pick up the transponders and do some racing! Getting back to the event village and it became apparent that someone had been busy! Drover cycles had a big stand up selling everything that might be required for the weekend, plus their barbeque going at full tilt to fuel all the hungry riders. A great little setup, people were chilling out all around, just perfect with the car park being a right little suntrap.
Although for me, my racing was over before it started.
On returning to the car, I had a phone call about a family issue back home which required my immediate attention. The weekend brought to a premature close, I loaded the car back up, made my apologies to Sandy for having to leave him waving the MBSwindon flag on his own and I was soon homeward bound.
I had a blast on the 4 stages I did manage to ride, but would of loved to put down some race runs! The Mondraker Enduro Series isn't a series of predictable trail centre runs, where you just blat around full chat everywhere, safe in the knowledge that the next corner will be the same as the last. This is a real skills test which will push you to the edge of your comfort zone, then a bit further!
I can't wait for round 4, which will be returning to Crychan Forest on 22nd & 23rd August. Hopefully see some of you guys there?

Photos courtesy of Dan Wyre of www.danwyrephotography.co.uk who takes some cracking shots at each race. Check them out on his website or on rootsandrain.
Big thanks to our sponsors for keeping the dream alive. Without their support, none of this would be possible.
Red kite Events                                 www.redkiteevents.co.uk
Hargroves cycles                              www.hargrovescycles.co.uk
High 5 sports nutrition                   www.highfive.co.uk
Seal skinz                                             www.sealskinz.com