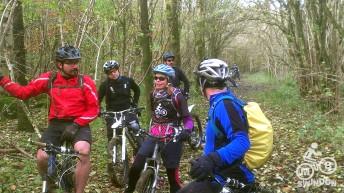 Gary Yeates will lead this club ride from Wroughton. The ride will be about 30 miles in length and will involve some hill climbing. Gary aims to keep a reasonably quick pace during this ride, so it is not aimed at novice riders.
A note from Gary:
Recce'd route for Saturday's ride yesterday. It's all fairly dry despite recent rain so should be a nice ride.
Please arrive in time for a 10 o'clock prompt start.
We will be heading out to Avebury (but not on the Ridgeway) and I plan to have a mid-ride café stop.
Nothing very technical but there is 2000 feet of climbing so it should provide a good workout.
Please bring spare tubes, etc. as there are lots of thorny branches around!