Cwmcarn is one of the big name trail centres in Wales. It's located a few miles North of Newport. There's a 14km (8m, 13km according to Google map) cross country route called the Twrch trail as well as a 1.4km downhill track. Both trails have around 400m of descent. The cross country route is steep and regarded as quite difficult in terms of climb ing. It is possible to join the two routes together.
Elevation plot of the Twrch trail at Cwm Carn.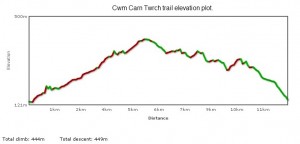 Elevation plot of the downhill trail at Cwm Carn.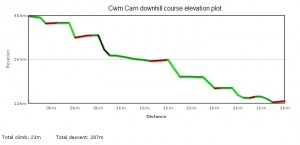 Warning: the cafe is certified as being totally crap.
Google Map of Cwmcarn mountain Twrch bike trail.

View Cwmcarn mountain bike trail. in a larger map
We had ten riders for this trip to Cwm Carn. Nine of them even brought their wheels with them. Luckily one rider had a spare bike nearby. It was billed as a novice-friendly trip, so we had plenty of stops. After the long climb we did both options at the top. The original free-ride route received a positive response.
It failed to rain properly, which was a bonus. Personally I was really pleased because I made it up the steep concrete ramp, something that I'd consistently failed to do recently. I'd been blaming the short stem on my bike and I reckon I was right.