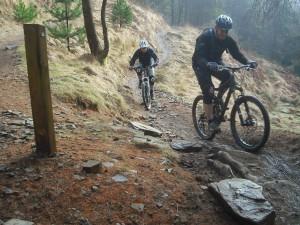 W2 is the White's Level trail plus the Wall (sometimes known as WW2 so bring your camo kit and rifles). That's two trails for the price of one. See out Afan trail guide including a google map of the trails.
The ground at Afan is very gritty and wears brake pads out quickly, so make sure you have some spares.
We'll be meeting for a 10am start at the Glyncorrg Ponds centre. Google map of start. Facebook event page.
We have a club discount at local bike shope Lodge Cycles (shop location). Some previous ride reports: Dec 2011 (video), Jan 2011,Dec 2010, May 2010.