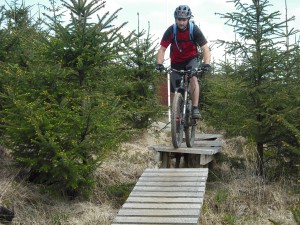 Afan trail guide including maps and route lengths.
This turned out to be quite an epic ride. Present were Pete Ratcliffe, Gary Lee, Andy Weaver, Phil Maygor, Rob Fairbrother and myself (Tom). We did all of Whites Level in the morning, including the Black loop. The drop on this showed up the limitations of my new pump, giving me a rim bash and an instant flat.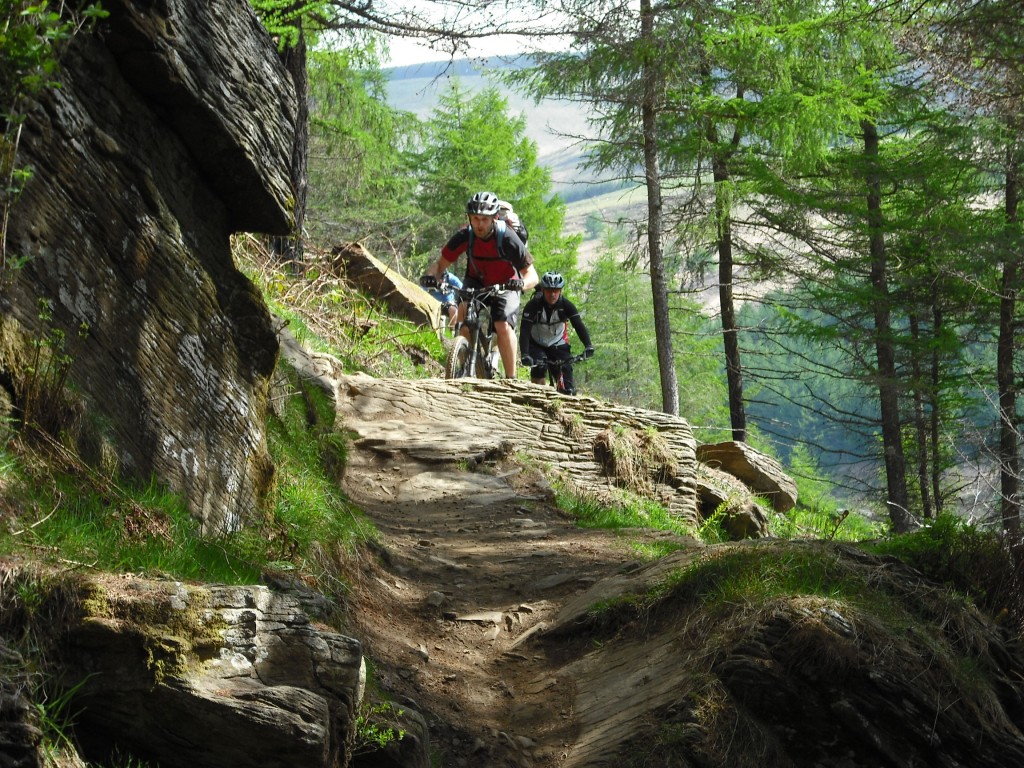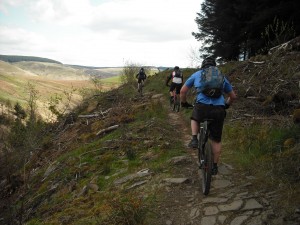 We had a big feed at the Drop Off Cafe including cider.
In the afternoon we did the Skyline as far as the first short cut. This meant the big climb, the descent on the other side, the climb to the shortcut, single track section, one last big climb and then the main downhill. It has been known as "the July trail". The shortcut has an ace rocky bit. Gary did a spectacular somersault when his wheel got jammed between two rocks. No injuries occured apart from to his pride.
The trails at Glyncorrg are still some of the best around.
---
---
Afan Trail Guide
There are four trails at Afan starting from two centres (Afan Forest Park and Glycorrg Ponds). The list below show the trails plus official length and height gain:
Afan: Penhyd (17km, 550m)
Afan: The Wall (23km, 450m)
Glycorrg: White's Level (15km, 525m)
Glycorrg: The Skyline (46km, 2000m)
The Glyncorrg visitor centre is the better of the two. White's Level is one of my favourite trails in the country. The Skyline on its own is alright, but doesn't really give enough entertainment for the distance covered. If you want more distance then either combine a loop of that with one of the shortcut versions of Skyline or do the W2 trail (Whites + The Wall). The original 9ft.com trail was renamed Penhyd at some stage and that's also a fun trail.
All of these are shown on the Google map of Afan MTB trails.
Trail lengths at Afan
Google map distance km/miles (official distance km, height gain m)
Penhyd: 16.5km/10.2miles (17km, 550m)

Wall options
The Wall loop: 15.6km/9.7miles)
The Wall + official approach: 22km/13.6miles (23km, 450m)
The Wall + cheeky approach: 17.7km/11 miles

Whites Level options
Whites Level: 15.2km/9.5miles (15km, 525m)
Whites Level + Black loop: 17.6km/10.9 miles
W2 link: 4km/2.4miles
W2 (Whites + W2 link + Wall): 38.6km/24 miles 975m climb
W2 + Black loop: 41km/25.4 miles

Skyline options
Skyline short cut 1: 22.7km/14 miles, 50% of total length
Skyline short cut 2: 34.7km/21.5 miles, 76% of total length
Full Skyline: 45.8km/28.4 miles (46km, 2000m)
Google map of Afan MTB trails.
Afan also has the Drop Off Cafe, the best trail centre food stop.
---