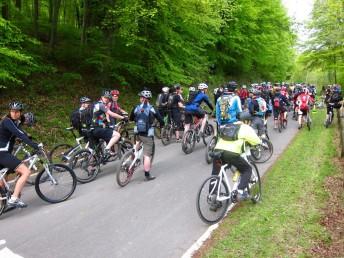 The QE Cycle Fest 2012 was held at the Queen Elizabeth Country Park near Southampton. It was organised by Hargroves Cycles. There was a 60km and 80km sportive on Saturday, the 4 hour MBUK Royal Rumble plus a live band with food (Quaver catering) and beer from the Flowerpots Brewery.
The QECP trail building group were opening a new section of trail on the weekend.
The Royal Rumble route used parts of the trails plus some extra parts and a few diversions. It was heavy going and conditions were still a bit sticky following a lot of rain earlier in the week. The long climb was rewarded with some really fun downhill though. The trail required a delicate approach and the final descent worked really well if you were prepared to roll with it.
We couldn't believe how fast the proper racers were – still hammering up the hills on the last lap.
Results are here (Time Laps website). My best lap was 35 minutes dropping to 49 minutes after 6 – the winner was 27 minutes dropping to 29 after 9 of them!
On Sunday it was a bike demo day, with Specialized, Cube, Cannondale, Stevens, Scott, Kinesis, Pivot and Salsa present, plus stands from Shimano and Garmin.
We took a few bikes out for a test session. The personal favourite was the Specialized Camber FSR expert carbon. This went up the hills with little effort and swallowed all the down I could throw at it. It was so assured and fun on the roots and mud. A very flattering bike to ride. I also tried a Camber Carbon 29″ bike and there wasn't much in it really. I still prefer 26″ wheels myself.