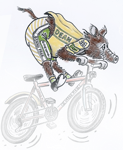 The Wild Boar Chase is a timed MTB ride in the Forest of Dean using tracks, bridleways, restricted byways and little-used roads.
Four routes are available: 18, 25, 37 and 43 miles.
The routes have been designed by "Dr John" of the Royal Dean Forest Cycling Club. The longer routes will appeal to expert riders.