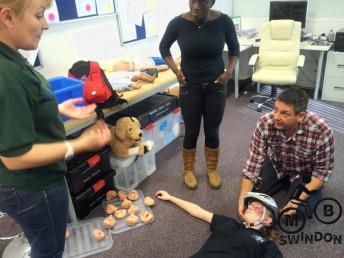 This was a one day first aid course organised by MBSwindon and taught by Wiltshire Ambulance Service Ltd (formerly Wolverest Group). The course was held at the Wiltshire Ambulance training centre in Swindon.
The format was a mix of presentation, demonstration, hands on trials and discussion.  There were two assistants for some of the demonstrations whilst for others we had to work in pairs or groups.  Our instructor Jayne had a lot of experience of providing cover at national cycling events including downhill events and road races. 
We shared mountain bike accident horror stories over the day. We looked at videos and photos of accidents and discussed what we would do if presented with that situation.
The course covered pretty much everything you would expect: assessing the situation, personal safety risks, checking for breathing,  how to clear a throat blockage, how to provide cpr, checking for spinal injury, how to move a victim, should you remove their helmet, shock, hypothermia, cuts, bandages, breaks, slings and lots of other things too.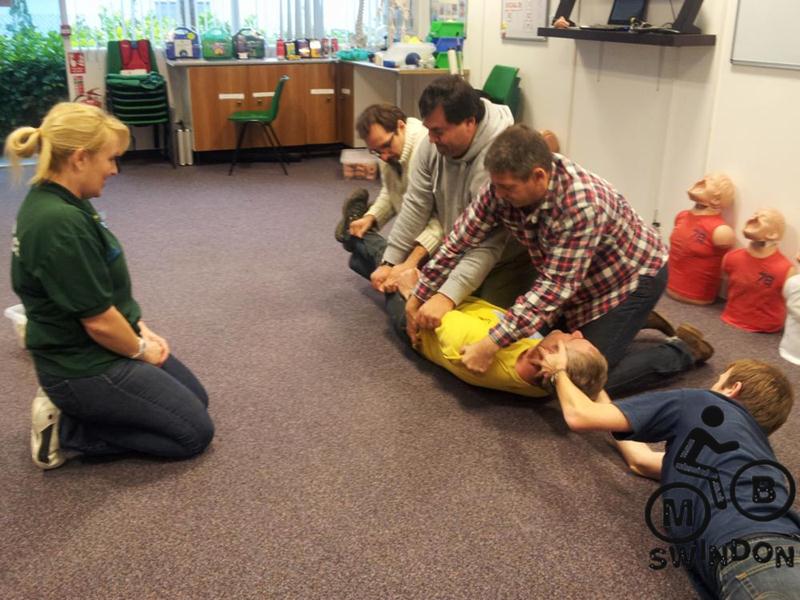 There were a lot of amusing moments over the day. The winner must be Tom Scott who replied to a question with  "there is a technique that I was taught years ago that I still use from time to time called kissing it better."
Some feedback from those present:
"Good 1st aid course today. Hopefully I'll never have to use it on a ride, but nice to know what to do" – Richard Ford
"I agree, it was a great course. I think everyone should do it." – Dean Bull
"Great course.  Good presentation and discussion, exactly what I needed" – Tom Stickland
Future courses will be advertised on our events page. See our alps accident story and some information on accident stats and safety gear.