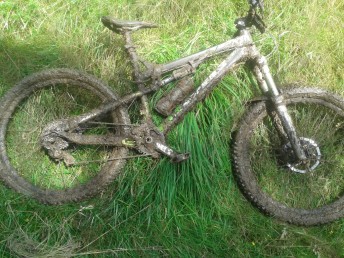 Phil Allum's report.
With the weather forecast predicting torrential rain for most of the weekend, for the first time ever, my preparations included packing the wellies. There didn't appear to be any hope of dry riding this weekend, so thought my feet might as well stay dry when I'm wondering around the race village instead. That and swapping my spuds for flats. I've never raced in flats before. Actually, I haven't really ridden in flats very much in the last few years, so I was hoping I hadn't picked up too many bad habits.
It chucked it down for the whole drive up there. Proper rain as well, none of this pathetic drizzly stuff, proper full on biblical rain. It played havoc with the stages. Like all the previous rounds of the Mondraker Enduro Series, most of the stages are hand cut in steep hillsides; lots of loam, roots and tight, twisty switchbacks. Add a few days of torrential rain and things become very interesting indeed.
So for Saturday we had 2 hours to practice 3 stages, followed by 1 timed run down each stage in the afternoon. Usual relaxed Redkite style of no set stage times or transitions, just turn up for your runs between 1pm and 4pm.
The 3 stages we had to practice were all of the style we had been expecting, but with saturated ground proving very difficult to ride them anywhere near clean. Some sections were like mango swamps, full on slop with hundreds of roots littered underneath. The only surfaced parts of the stages were the fire roads we crossed!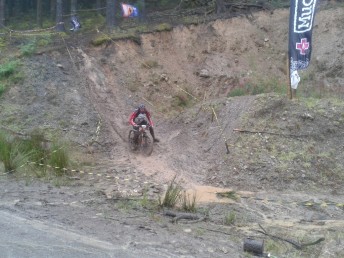 Towards the end of practice the rain had stopped and the trails were drying out surprisingly quickly. But come the timed runs, the stages had changed loads. All the high lines had had all the soil stripped off by a hundred tyres, leaving polished clay behind. The stripped material had ended up at the lowest point of the trail, drying nicely to a claggy mess. Once your tyres had picked up some of this, it was ice skating time! Particularly treacherous was the drop into the quarry on stage 2; the roll in was steep, off camber and rooty. All you could do was try and get the bike as straight as possible before going over the edge. Not easy when you have zero grip!
The timed runs went well. I'd decided beforehand that I wasn't going to be a hero. My usual style is to go flat out everywhere, huck it off random objects and try not to take it too seriously. It's not usually the fastest way down (I inevitably crash at some point) but it sure is fun. But for this race it was far too slippery to mess about. So I took it slower, tried to ride it a bit cleaner, and just stay on the bike, which I managed to do. I finished Saturday 8th in Masters, which was  etter than I was expecting.
Overnight came plenty more rain. In fact the organisers decided that it was just too dangerous to run some of the stages as they were. So some changes were made, including removing the hairy drop into the quarry that was on stage 2. So with 7 stages to race (no practicing today) there was no point in hanging around as the rain was never going to stop, so you just had to get on with it. Luckily for me, we were treated to some surfaced trails on some of the stages. So for these I reverted back to standard riding style; disengage brain and wind it up to warp factor 9. I don't have an issue with riding flat out on surfaced trails or rock based stages, even in the pouring rain. Years of riding motorbikes have probably desensitised me to speed. For the steep, tight, loamy stages I just had to keep my head on and keep it rubber side down. It's taken me a while, but I've finally realised I can't ride flat out on wet mud. So if I slow down and skip the bit where I have to get back on the bike, then I finish that bit quicker. Simple really.
With no real drama on any of the 7 stages, coupled with riding like a loon on the surfaced bits, meant that I managed to climb up to 4th position in Masters over the 2 days.
The weather was as bad as it could get for August, but it was still a great weekend of racing up at Coed Trallwm. Special thanks have to go to the organisers and marshals, who had to stand out in awful conditions all weekend while we played in the mud.
The 5th and final round of the Mondraker Enduro Series will be on 24th & 25th October at Baskerville Hall near Hay-on-Wye, so why not come along and have a go?
Redkite Events
www.redkiteevents.co.uk
Hargroves Cycles
www.hargrovescycles.co.uk
High 5 sports nutrition
www.highfive.co.uk
Seal Skinz
www.sealskinz.com