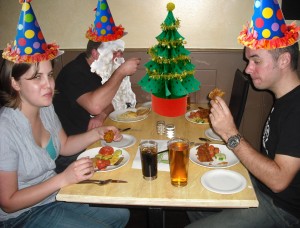 Just as Christmas comes around every year so does our party and the opportunity to use the special photograph (on the right).  
The 2012 MBSwindon Christmas party is being held at 8pm on Saturday the 22nd December at the Goddard Arms in Old Town.
Priced £25.95 for a 5 course menu (see menu options below). If you would like to attend then please make a payment to MBSwindon by bank transfer  to:
MBSwindon SC: 08-92-99, AC: 65384004
 Reference  "xmas" as the reference.  Pay by the 8th December to reserve a place.
Please email Chris at mbswindon co uk with your selection of starter, main and dessert.  You can also make contact on the
Facebook event page
.
Starters
Thyme baked brie with garlic toast
Smoked salmon on rye bread
mushroom and roasted garlic soup
chicken liver port and red wine pate
Mains
Traditional roast turkey
Beef bourguignon
baked salmon with saffron and leek sauce
goat's cheese and roasted red pepper cheesecake
Desserts
xmas pud
clementine and cointreau cheesecake
choc and cranberry cake
vanilla ice cream
cheese board
coffee and petit fours