16th-18th September
We're going back!! The previous two ladies' riding weekends to Wales were a great success, but they were some time ago now, so it's time to 'hit the trails' again!!
The plan is to ride the trails at Brechfa over Saturday and Sunday. There is the 'red' graded Gorlech trail (graded red because of the climb involved, the distance and some of the technical features), the extremely popular 'green/blue' Derwen trail which is ridden for fun by all abilities and will have you swooping and whooping back to the car park, and the 'black' graded Raven trail if desired for any experienced riders. There is something here to suit everyone.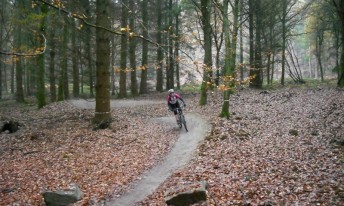 There is also a short, cheeky but fun 'red' graded trail nearby if you fancy a 'quick one' on the way or on the way back. And there is always the opportunity to call in at another trail centre, such as Afan, on the way back home if you haven't had your fill.
We will stay at a bunkhouse that caters specifically for large groups and provides great, clean and modern facilities. It is also close to a pub and the trails. To keep costs down the club is hiring this facility and we will share it with another group from MBSwindon who are planning to do their own riding. So it should be a great social weekend and a chance to meet other club members who you might otherwise not meet.
Numbers are limited to 10 for our Ladies' group and costs are approximately £45 each depending on how many come. Food costs are additional and meal arrangements will be made nearer the time.
A reasonable level of fitness is required as there is a good amount of climbing involved on a mixture of fire roads and trail. However, we can walk bits and we will take our time and enjoy the experience of this beautiful trail centre set in a stunning location. There will be plenty of opportunity to regroup, catch our breath, picnic, eat cake… and, above all, enjoy ourselves.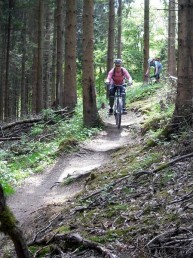 If this is your first experience of a trail centre then we recommend you visit Ashton Court and/or Forest of Dean beforehand to improve your confidence and we will be arranging ladies' rides to those venues over the coming months. We also highly recommend attending a 'Trail Skills' course provided by the club to gain basic skills if you don't already have them.
So what's stopping you?! Come and have a great weekend doing a little of what you fancy and having fun with your riding buddies. If you are interested in coming or would like more information please can you email races@mbswindon.co.uk. Places will be allocated on a 'first come, first served' basis and you will be asked to pay a deposit to secure your place.
Links:
Trails at Brechfa: http://www.mbwales.com/agents/brechfa/
Bunkbarn: http://www.brechfa-bunkhouse.com/
Ladies XC weekend at Brechfa 2012: http://www.mbswindon.co.uk/ladies-trip-mudtrek-sept-2012/
MB Swindon Trail Skills Course (no dates set for 2016 yet): http://www.mbswindon.co.uk/training/trail-skills/