Photos from the Hargroves Cycles MTB demo day at the Croft Trail in Swindon. This was an opportunity to try out brand new models for free.  Brands present were Specialized, Scott, Cube, Stevens and Genesis.
The MBSwindon club stand and BBQ was present. Coffee, cakes and sandwiches were served by Cafe-Xpresso and Donna from Back2fitness Extreme was on hand to answer sport therapy questions.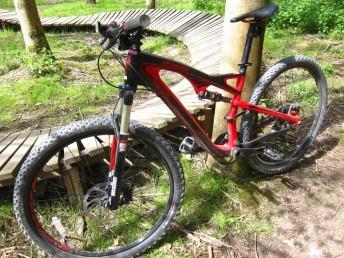 I tried several 29″ bikes and was impressed with all of them. After being underwhelmed by the wagon wheels a year ago it was great to find that the latest models now go round corners whilst having a subtle and noticeable improvement over undulations compared with 26″ wheels.
 Both the Genesis models I tried were point and shoot rockets. However, after riding only hard tails from 2002-2010 before converting to full suspension  it was a shock to ride hard tails again.
The best bike for me on the day was the Specialized Camber 29″ Carbon. I already own an alloy Stump Jumper and this very similar, just with bigger wheels. One hell of a bike if you are comfortable with the Specialized brand. I know that the image conscious can struggle with that. If you rate the riding experience then, for the money, Specialized hit the spot.