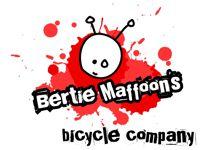 Special MBSwindon member offer!
10% off at Bertie Maffoons shop in Marlborough on Fri 16th and Sat 17th November 2012. To claim the discount you will need to show your club membership card plus the attached voucher.
The shop recently relocated to: Unit 1 Glympton Court, (opposite Tesco), Marlborough Business Park.
See photos from our evening rides with Bertie Maffoons in August and May 2012.