Words by Steffan James
I've just renewed my MB Swindon membership, and thought I'd share some of the highlights of my twelve months of Mountain Biking.
I discovered Croft Trail whilst looking for off-road places for my five year old son – who had ditched his stabilizers in the spring – to ride. Off I set one evening, following the blue arrows on my ten-year-old Carrera hybrid. By the end of the ride I had concluded:
It was a bit tricky for my son (although he has been around it since)
I was very unfit, and
I liked it!
Over the next few weeks I became a regular visitor, getting more daring with every visit (I think I averaged a fall every two visits!), joined the Facebook group, and signed up for membership to the club and to British Cycling. My first club event followed in September – a trail build day – and I was struck by the thought that this genuinely was one of those 'community' projects that really does make things better!
By now it was clear that my trusty old hybrid bike would have to be replaced, and the search for a replacement began. Everyone has an opinion, and reviews in magazines can be a bit misleading as they are often comparing features that just don't matter to a beginner like me. In the end, I drew up a short list of features I wanted to have… and chose the bike I liked the look of! (It proved an inspired choice as, almost a year later, I still love riding it!)
My new bike got a baptism of fire (or more precisely, of mud) when I went on my first club ride in October. I loved the ride; it changed my view of what cycling is. Or perhaps it would be more precise to say that it reminded me of my view of cycling when I was child: you can take your bike anywhere you want! Over the next few months, I enjoyed a few novice-friendly rides with the club, started doing cross-country rides myself, and helped out at a few more trail build days. Some people are very serious about their riding, but most of the people I've met are just out to enjoy riding; there is usually a really good atmosphere on club rides.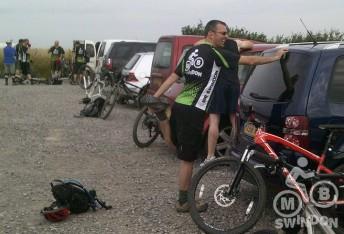 It quickly became apparent that this was not going to be a cheap hobby. At first I was cycling in a pair of running shoes and track-suit trousers. As the months passed I bought a pair of proper MTB shorts (with 'rubber pants' inners, as my wife calls them), three-quarter tights, an MB Swindon jersey, two other jerseys, base layers, gloves, a Camelbak backpack, pump, multitool, puncture kit, lights and lots of other odds and ends. Oh, and a road bike, too 
As Spring came round, I was looking for targets to achieve. I wanted to do the middle distance (25miles) on the Prospect Hospice ride the club helps to organise, and complete a 50 mile sportive on the road bike. As I was volunteering to marshall the Prospect ride, I did it a week beforehand with three other club members. In one way, it showed how far I have to go, as two of the riders were considerably faster and had to wait for me regularly on a ride that lasted most of the day. On the other hand, I actually completed the longer 30 mile route, and felt very pleased with myself. I've also completed two sportives on the road. 
Although there's still a way to go, my fitness has improved significantly (I had done virtually no exercise in the previous five years) and I now regularly do rides of 20+ miles, something that would have been unimaginable to me a year ago. I still set myself challenges (I finally made it up the road to Barbury Castle last week!) and look forward to being able to join my first club ride which isn't 'novice-friendly'.
Thinking of giving it a try? Take a look at the 'Events' page and look for a novice-friendly event. Don't worry about being too slow, too unfit, or not having the right kit, just come and ride your bike; you'll enjoy it!