Note: This event has been changed from June 1st to June 15th.
Warning: This is a very long ride, participants should have a very good level of fitness and stamina to cover the distance and climbing. If you can comfortably ride a hilly 50km (30 miles) off road route then you should be able to stretch to this.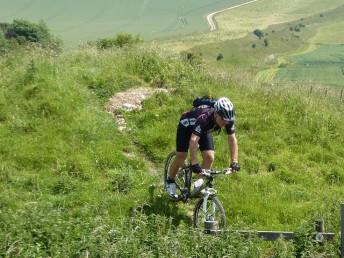 Andrew Weaver is leading a repeat of last year's epic summer ride. Starting at Barbury Castle, we head to Rockley, followed by Clatford Down gallops and then Clatford, over the road and into the West Woods. In the West Woods there will be chance to hoon about a bit.
Once playtime is over well head back out of the woods to Martinsell Hill fort; there are some spectacular views from the fort. Then we go west through the woods at Oare Hill and onto the Mid Wilts Way, and up and over Knap Hill.
Crossing the road we join up with the ancient Wansdyke path, then it is all the way along the Wansdyke to Morgan's Hill. There are spectacular views all along the Wansdyke path. From Morgan's Hill we go to Cherhill, climb the back of Cherhill and scoot down the other side. Phew, that's the first 45km (28 miles) and 800m (2600ft) of the climbing done. Time for well earned coffee & cake at Divine Café.
Once refreshed we'll head back via the villages of Compton Basset, Yatesbury & Winterbourne Monkton. We'll follow a little used bridleway back up to the Ridgeway. Then it's a quick blast back along the Ridgeway to Barbury.
Weather permitting this promises to be an epic ride that takes in the West Woods, Oare woods and has some of the most spectacular views in the country.
Read a report of last year's ride here.
Barbury Castle Car Park – https://maps.google.co.uk/?ll=51.483464,-1.77617&spn=0.002756,0.006968&t=h&z=18