Phil Allum resisted the lure of the Bake Off final to ride his bike.  He writes as follows :-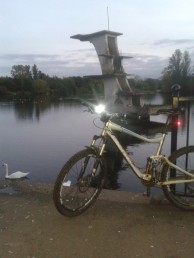 The leaves are falling and the nights are definitely drawing in, but MBSwindon are still getting on with it on the Wednesday night rides. It was lights on from the start this week and within 20 minutes or so it was pitch black out on the downs. A solid 20 mile loop with a climb up Earthline thrown in for good measure. Coming back down the Ridgeway to Ogbourne st Andrew at night certainly awakens the senses! Big thanks to Stuart, Pawel, Richard and Steffan for a great time last night.
If the weather holds up then hopefully we can get a couple more off road rides in before we have to revert back to the more winter friendly Urban round on Wednesdays.