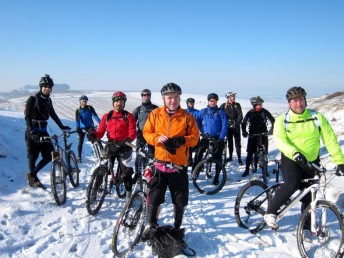 8am Covingham (by the co-op) – 40 miles
9am Foxhill (Ridgeway) – 25 miles
10am White Horse, Uffington (NT car park) – 15 miles
Tom Scott will be leading this classic MB Swindon 'cafe' ride. Destination is the cafe at the Court Hill Centre just off the Ridgeway above Wantage where you will have the opportunity to buy hot beverages, snacks and cake!
There are 3 start points which gives everyone a choice of distances. The section from White Horse to Wantage and back will be 'Novice Friendly' and will be run at a slower pace than the rest of the ride.
Bring spares and food. It can be very cold and windy up on the Ridgeway and the ground conditions may be treacherous (ice, wet chalk, deep mud etc) so please ensure that you and your bike are prepared.