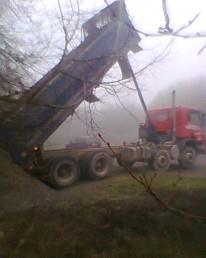 Earthline delivered 20 tonnes of type 1 limestone to the car park today.
This is going to be shifted on the upcoming trail build day (our trail build days are always listed on the events page).
It's going to be used to finish of the triangle entrance and for resurfacing jobs (west side of pitch, Piper's hill, two short link sections in the first half of the trail etc).
We shifted 190 tonnes of material last year! This year we have around 500m of trail to fix. That will require about 40 tonnes of material and will take two or three weekends. So we're winning the battle.
See the trail build diary.