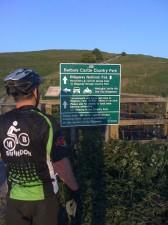 The hard Tom Scott will be leading this hard ride.  There will be at least three hard climbs up to Barbury Castle and another two major climbs elsewhere.  This will be a real test of endurance and not for the faint hearted, but if you're hard enough then this is for you.
There will be a cafe stop at Avebury about half way round, but bring water and high energy food, as well as the usual spares.
You will be wet, muddy and  tired by the end of this ride, but you will have the satisfaction of completing one of the toughest local rides we've ever put on!
And if it all gets too much, the entire ride is based close to Barbury so there are plenty of opportunites to bail out….