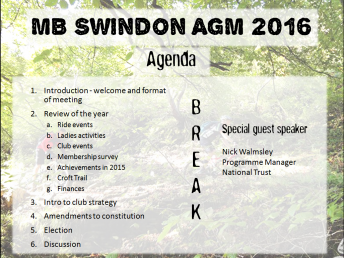 MB Swindon AGM
The Goddard Arms, Swindon
28 February 2016
1. Introduction
Sharon welcomed attendees on behalf of the Chairman (Phil) and apologised for his absence due to work commitments, these included 19 attendees and the 4 other committee members:
Jason – Treasurer
Richard – Events Secretary
Sharon – Social Events Officer
Kat – Membership Secretary
Debbie – Women's Officer
2. Review of the year
a. Ride events
Richard gave an overview of the locations the club rides have taken us in the last year, these included the following:
Afan
Forest of Dean (FoD)
Pewsey
Ridgeway
Urban
Croft
Bike Park Wales
Swinley
Oktoberfest
Stroud
Mendips
Snowdonia
Quantocks
At the latest count, a total of 395 people attend rides (although this does include people counted multiple times). He thanked the ride leaders and web elves for all their hard work in delivering and promoting the rides
For 2016, the hope is more of the same with the aim for 1 Novice Friendly™ and 1 ladies ride per month, with some epic rides thrown in and a focus on 4 targeted race events: Mountain Mayhem, TwentyFour12, QECP and Oktoberfest. He highlighted that this didn't mean that members couldn't attend other race events under the MB Swindon name, but that these would have a full on MB Swindon presence with Gazeebos and flags etc.
b. Ladies activities
Debbie gave an overview of the activities from 2015, stating that it had been a rather quiet period. She noted that in light of the Membership Survey, it was apparent that the ladies only rides were still needed and as a result of that a ladies forum was held where additional female ride leaders were recruited and Debbie was voted into the Women's Officer role after Sharon B's departure.
Debbie went on the explain that the current membership of 36 ladies is looking healthy and that the rides regularly bring in 7 or more attendees. She hopes to continue this trend  and encourage more ladies to integrate with club rides, through the introduction of a 'Buddy up' system.
It was also noted within the survey that ladies would like some off-bike activities and Debbie has already secured a ladies only maintenance session with Hargroves in a few weeks. Debbie plans to hold more regular ladies forums to review the activities wanted and feed into her plans for the club.
Debbie finished by thanking Sharon Bassindale (retiring Women's Officer) for taking her through the first steps of mountain biking, via the club's ladies group and she hopes to take this task into the future to introduce more ladies into the joys of mountain biking.
c. Club events
Sharon gave an overview of some of the more social events from 2015 which had a number of people attend and seemed to be received well by those that did. The main ones were the Croft Trail Open Day in June which included general info about the club and race team and the Police coming down to do some bike marking, something she plans to facilitate more of; the pre-Christmas 'Mince Pies' event at the Croft Trail; and the Christmas meal which was held in January rather than December to avoid the mêlée of Christmas. She also noted the social aspect of people coming to events held locally like Bikefest, Oktoberfest to help and support the teams and join in the camaraderie and fun etc.
Sharon also explained that due to the reduced need for fundraising for the club this year that Curry night was not held in 2015, partly down to the logistic and admin effort to gather raffle prizes and also due to venue issues. It may be something that is re-looked  in to for 2016.
d. Membership survey
Kat gave an overview of the findings from the club membership survey, which was carried out in the Spring of 2015. At the time the survey was launched, there were about 290 members of the club with 86 completing the survey. This represents a 28% uptake, which if compared to similar group standards is deemed as a high uptake. The key points covered are available within the AGM presentation file, this includes some quotes from participants about the positives of the club and an overview of what the club does well and what it could do to improve.
The committee will continue to work on the responses to the survey to further improve the club for you the members.
Membership statistics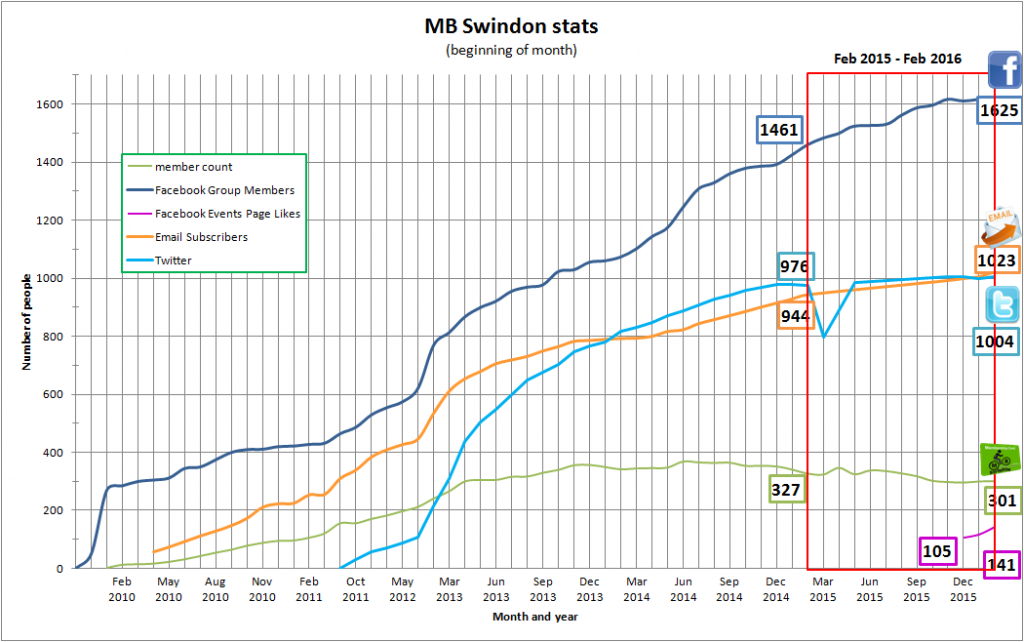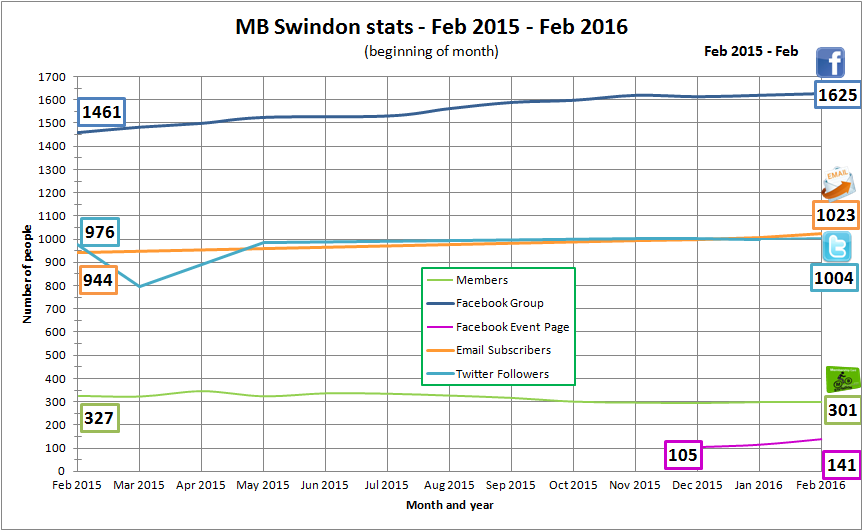 e. Achievements in 2015
2015 has been a mixed year for the club and Kat gave an overview of some of the achievements it has had. They include:
New jerseys, with the acknowledgement that they took a long time to be available due to supplier issues which have now been resolved.
The MB Swindon travel mug
Race team podiums and silverware
Working to support the development of the Swindon Borough Council Cycling Framework, which includes a case study of the club and the Croft Trail
Supporting the Macmillan Castles charity ride with marshals and sweepers
Gaining some high level promotion of Swindon as the go to location for mountain biking in the UK through Brendan Fairclough and Loamy shredding's videos (ok so it may have been a bit tongue in cheek, but we still got a mention)
f. Croft Trail
Jason provided an overview of how the Croft Trail has progressed since the last AGM. He explained that 2015 has been a year of maintenance; with Phil, Chris and Jez working together to make improvements to key areas. Chris provided an update on these, which include a new line, relocation of 'the kerb' and other obstacles that required replacing after they had fallen away. Litter picking has also taken place to ensure that the trail is kept clean and tidy to avoid any potential backlash from other park users.
Looking forward, Jason noted that due to the warmer winter we have had in 2015 the trail has suffered somewhat and some bigger maintenance activities may be required. High priorities are, the replacement of the bridges and the first section of woodwork in the red optional section at the start of the trail. Some of the wood panels used in this section are original and were relocated to their current location, a few years back. The options available for this section is to either replace with more woodwork, which will be expensive to source suitable wood; or lay surface like the rest of the trail, however the location of the section makes it very difficult to get material from the car park to it (will have to be hand-barrowed) and therefore take considerable time and effort.
For those that would like to be more involved with the trail and its development, then attending build days is the first step to inputting your ideas. The next build day is scheduled for 19 March, to allow improvements ahead of the Hargorves Demo Day in May. There will also be regular mini-sessions on a Friday night, contact Chris for more details.
g. Finances
Jason gave an overview of the accounts (full details within the AGM presentation file). The end of 2015 sees the club's account with just under £6,000 pounds in it. This is partly down to low costs on trail maintenance during this period, only one delivery of gravel was received. However, the club has invested on trail building tools and machinery to help reduce longer term costs of trail building, these include a compactor and brush cutter. A new notice board at the trail has also been installed, after the previous one was vandalised. The club has also purchased some high-vis bibs for marshalling activities and trail building to help promote the club at these activities.
After the supplier issues with the club jerseys, we now hold a stock of shirts which Jason estimates will last for about 3 years. We have tried to hold relevant sizes based on previous orders.
Jason suggested that the bank account balance be capped at £5,000 and any excess is given to a charity as a donation.
Looking forward to 2016, the club is looking to train some additional instructors to be able to offer more courses, which will potentially bring in more revenue from the increased capacity. It is unclear of the future of the race team for 2016 and what their costs to the club will be and how sponsorship will be managed.
Q – When you say you have shirts in stock, how many are you talking about?
A – 48 shirts are in stock, with Hargorves holding 10 to allow members to try them on for sizing / buy them from them. The production cost is between £24 – £29, so with delivery charges on top not much profit is made on their sales (purchase price to members is £35).
3. Intro to club strategy
Sharon introduced the idea behind developing  a club strategy, as since she came into post last year she felt that the club would benefit from a documented aim for the club and the committee to help make the most of the finite resource we have of volunteer time and money.
The sources of information which have fed into the development of the strategy include the following:
Membership survey results – a good indicator of where we are now
Ride leader meetings – provided input from their perspective as volunteers
Ladies forum – better understanding of specific requirements
Club committee – build on experience and input
Sport England's Club Matters Tool – provides a framework for developing these documents
The sections to be included within the strategy are as follows:
Membership
Rides and Events
Training
Volunteer Workforce
Race Team
Marketing, PR and Sponsors
Communication
Links to other organisations
Social
Finances
Club Equipment
Croft Trail
Members are invited to attend the Club Strategy development workshop on 20 March to find out more details of the document and help finalise its development.
4. Amendments to the constitution
Debbie explained that the reason these changes were being brought through for consideration, was to bring the constitution in line with the actual practices and changes within the club.
The proposed changes as they were presented at the AGM are available to view in the Proposed changes to the constitution document and will be referenced by number in the summary of voting below.
Of the 24 attendees at the meeting, only 21 were eligible to vote.
Point 3, with reference to the election of committee members
Q – Will there be a maximum term for committee members?
A – There will be a rolling election, so every 3 years each position will come up for election. This is to encourage a rotation of the committee and to maintain some level of continuity and avoid the mass replacement of the committee. It was felt at this moment in time, it was a step too far to impose a maximum term of office.
Voting: In favour – 15, Against – 1, Abstention – 5
Result: Change accepted
Point 4,  With reference to the committee changes
No questions asked
Voting:  In favour – 15, Against – 0, Abstention – 6
Result: Change accepted
Point 6, With reference to payments drawn
Q – The limit of £100 spend without Committee approval seems high, why is this not lower and requiring at least two signatories?
A- Due to the way the bank account is set up, there is no requirement to have two signatories on any cheques (should they be used) and no restriction on the use of the Club debit cards. As the majority of payments are made via debit card or BACS the control is not possible to put in place.
Q – Should there not be a regular review of the accounts with the whole Committee, say every 3 months?
A – Currently, there has been no requirement to provide regular feedback on the accounts to the Committee, but it could be brought in.
No voting took place as it was decided that due to the concerns raised, and on the advice from the representative attending from British Cycling (club's governing body), that a further review of the financial controls should be undertaken to see if they could be improved through a change in bank account type.
Point 9, With reference to committee meetings and attendance
No questions asked
Voting: In favour – 18, Against – 0, Abstention – 3
Result: Change accepted
Point 13, With reference to the clubs accounts
Q – Does the accounts being externally verified mean there will be an additional admin cost?
A – External means someone who does not have a vested interest in the club, this could be achieved by finding someone from the appropriate body to carry out the review which may cost a nominal fee or could be done on a volunteer basis.
Voting: In favour – 20, Against – 0, Abstention – 1
Result: Change accepted
5. Election of Committee
Richard oversaw the election of the available Committee positions in line with the amendment to the Club Constitution voted in the previous section.
As above, of the 24 attendees at the meeting, only 21 were eligible to vote.
Chairperson
Only one nomination was received – Chris Hopkinson
Vote: For – 16, Against – 0, Abstention – 5
Result: Chris elected as Chairperson
Club / Membership Secretary
Only one nomination was received – Kat Ratcliffe
Vote: For – 18, Against – 0, Abstention – 3
Result: Kat elected as Club / Membership Secretary
Ladies Officer
Only one nomination was received – Debbie Davies
Vote: For – 20, Against – 0, Abstention – 1
Result: Debbie elected as Ladies Officer
Awards ceremony
The Committee gave following awards:
Most prolific ride leader
Support on community events

Simon Oxlade for efforts on Macmillan Castles ride

Most travelled MB Swindon travel mug
Support for club communication
Most optimistic line on club ride
Best attendance at rides
Best piece of sports kit for 2015/16

Lady from Oxford high street
| | | |
| --- | --- | --- |
| Tom Scott with his award for 'most prolific ride leader' | Graham Burgess with his award for 'most optimistic line on a club ride' | Paul Allum with his award for 'best attendance at club rides' |
6. Discussion
It was noted that Committee member presence on club rides has been low over the past few years and suggested that the Committee should aim to increase their presence on organised rides and make themselves more evident when they do attend.

The Committee responded that in the last 12 months there has been an effort to increase attendance, but due to injury and illness this has not always been possible. It was also noted that sometimes the running of the club means that the Committee do not have as much time as they would like to join in Club rides.

It was pointed out that a long term supporter of the club (Jo Page) has written a blog post about the experiences of her local club and that it is similar to those of MB Swindon and that we are not alone in having difficulties with maintaining member interest and volunteer effort.

The Committee had not all read the blog post, but would share it with the members should they be interested in reading it (link above).

Someone mentioned that most of our social events are meal based and suggestions were made about skittles, bowling, karting and paint-balling.

The Committee noted this and will take this forward.

In the past it has been suggested to have map reading / treasure hunt activities as a club event.

The Committee agreed that it had been raised in the past and even the suggestion of 'Orient-beer-ing' around the pubs of Swindon was raised or a type of 'bike hashing'. They will look into the possibilities of these activities.

Chris Hopkinson, the incoming Chairperson, wanted to officially recognise the efforts that Phil Mayger, the outgoing Chairperson, has put into the Club and the Croft Trail and without them the club and trail would not be what it is today. The room gave a full round of applause in recognition of this.
We then had a  presentation on Badbury Hill development, from Nick Walmsley, Programme Manager, National Trust Headquarters.