MB Swindon AGM
The Cold Harbour, Swindon
22 February 2015
Chairman's welcome
Phil welcomed 21 attendees and the 4 other committee members in attendance:
Jason – Treasurer
Richard – Events Secretary
Kat – Membership Secretary
Sharon – Women's Officer
1. Review of accounts
Jason gave an overview of the accounts – MBSwindon Accounts AGM Feb 2015
Q: Why is the membership total not a round number, when the fee is £10?
A: The service used to process the payments (NoChex) charges an admin fee which is taken from the £10 fee.
Q: There was talk in the past about a container at the trail, what happened to that option?
A: It was assessed as an unfeasable option due to the location. Planning permission would have been required and concerns over the risk of vandalism and break-ins. The committee are continuing to look for suitable garages but if any member has suggestions / leads please pass the information on to one of the committee.
From April 2015 the club will be registered with HRMC. This will not increase membership fees but the club accounts will have to be submitted to HMRC in the correct form.
2. Review of the year
a. Rides / events overview
Rich first thanked all the ride leaders who give up their time to recce, plan and lead the rides available to the club members.
Over the past year the club has run first aid courses and provided first aid kits for the leaders. There have been many rides offered and great write-ups in the ride reports.
It was noted that with no Tom Stickland leading rides, there are less 'epic/wilderness' rides.
Q: What will the structure of the rides be for 2015?
A: The aim is to have at least the following each month
Ladies ride
Novice friendly ride
Standard ride
Away ride
b. Membership / ride attendance stats
Kat presented an overview of the membership statistics for the year, highlights include:
Analysis of growth of followers / subscribers / club members since the start of the club

Overview of ride attendance which showed that over 50% of the attendees on club rides are members.


Period
Jan – Mar 2013
Apr – Jun 2013
Jul – Sep 2013
Oct – Dec 2013
Jan – Mar 2014
Apr – Jun 2014
Jul – Sep 2014
Oct – Dec 2014
Number of unique members attended (current at time of ride)
63
47
66
65
55
51
81
48
114
133
189
Number of unique riders attended
87
65
104
100
56
58
112
66
209
197

Breakdown of the length of membership:

Looking first at those who have not renewed their membership:

76% of the expirees didn't renew after their first year
11% didn't renew after their second year
13% didn't renew after 25+ months

Moving on to the current members:

39% of our members have been with us for 25+ months
22% have been with for up to 24 months
39% are 12 months or less​

Current membership attending rides in 2013 & 2014


 
Number of rides attended 2013 & 2014
Length ofmembership
0 rides
1 – 5 rides
6 – 10 rides
11 – 15 rides
16 – 20 rides
21+ rides
25+ months
50%
28%
11%
5%
2%
4%
13 to 24 months
54%
30%
4%
7%
–
4%
12 months or less
72%
24%
4%
–
–
–
Total
60%
27%
7%
3%
1%
2%
3. Looking forward/Long term plans
Croft Trail
Phil presented a map of the trail with areas for improvement and talked through them.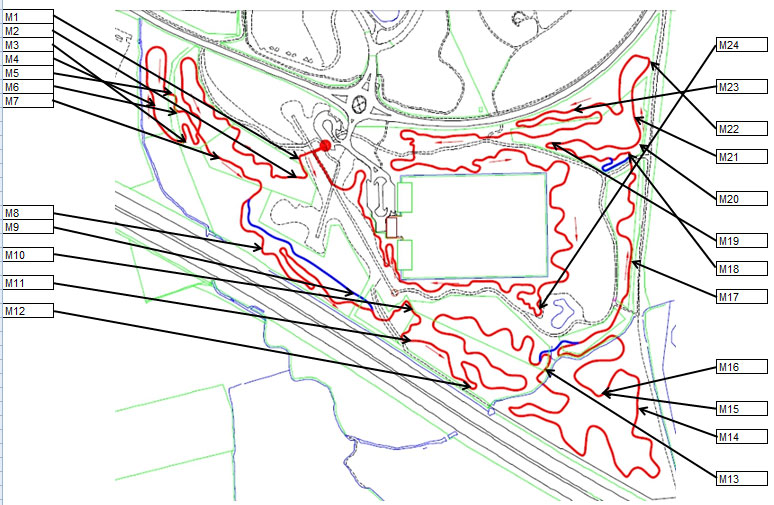 Q: Is there a possibility of extending the trail to the other side of the stream / towards Park & Ride?
A: It has been deemed a no-go area.
Officially naming sections of the trail and identifying them on a map will be looked into to help with discussions about the trail for maintenance and discussing techniques. This will take into account suggestions made by people in the past.
The trail has achieved what was set out by the founding members of the club, to provide a location within the town to practice and develop mountain bike skills and handling. As it is now 5 years old some sections require an overhaul, the main area of concern is the first woodwork section which is from the original build. It was put there because the ground was liable to flooding, which has been reduced with the Wichelstowe development. It is deemed to be a good introduction to boardwalk for riders new to mountain biking and the consensus was that it would be good to maintain something similar in the future. Replacing the wood with more suitably treated wood is the preference and this is what some of the funds allocated to trail building are for.
Club rides
In the past 12 months the club has delivered a vast amount of events, however in 2015 the club will use the 'less is more' approach focusing on good quality rides. The plan is to survey club members to understand their needs.
Their will be an 'introductory ride program' to help new mountain bikers get into the sport.
4. Q&A
Q: Are there plans to try and increase the club membership?
A: Current level of membership has remained stable for the last couple of years. There is a plan to try and increase the presence at the Croft Trail so that more people who use the facility are aware of the club.The club is promoted via:

Swindon Borough Council (SBC) and Swindon Bicycle User Group (BUG) meetings, which then get disseminated out through other initiatives.
Stands at fêtes / events and the committee are more than happy for volunteers to continue with this (get in touch if you'd like to help with this).
The race events attend by members and the Race Team also help promote the club.

Q: How is the relationship with the dog walkers at Croft Trail?
A: There have been no reported incidents for approximately a year now.
Q: What are the marshal requirements for 2015 events?
A: The club will be supporting Macmillan Castles ride with marshals and sweepers with initial estimates of about 30 people to man marshal points plus the sweepers for the three routes. Prospect have scaled down this year's cycling event. The club is unsure of the reasons for this and will be making contact with Prospect in due course.
Q: Will the club be changing the age limit restriction?
A: The current committee will be sticking to the over 18 age limit as they have enough responsibility currently and adding under 18's would increase the workload.In the past people have come forward as interested, but this has never been taken further.  A statement will be prepared for anyone wishing to move this option forward.It was raised that the option of having age ranges/variation  could be an option e.g. 16+ rides or 'family friendly' rides so that there would need to be a parent/guardian present for under 18's to attend. This option is to be discussed further with interested parties.The committee were keen to mention that a club member has started a British Cycling – Go Ride group for under 16's (Swindon Go-Ride) and are in support of them.
Q: What training courses will be offered in 2015?
A: Courses will be in April/May when the weather improves with the possibility of extra courses in June/July if there is enough demand. The aim is to run 8-10 courses with a mix of Core Skills and Trail Skills on offer. In 2014 there was a higher demand for the Trail Skills was in higher demand. 

Once the dates have been finalised they will be advertised, with those on the waiting list emailed once they are available to book.

At present the club only has one active instructor and is looking to add additional instructors with funds allocated in the budget to train them.
Q: When are the club shirts going to be available?
A: There are minimum quantities of the green shirts in stock. The pink version is a special order item and will have to wait until there are enough requested to do a production run. Moving forward the choices available are to be reduced with only a short sleeve version being available.
5. Staff elections
Chair – Phil re-standing for position, seconded by Sarah Bailey. No other candidates standing. Phil re-elected as Chair.
Treasurer – Jason Rodger re-standing for the position, seconded by Shaun Carolan. No other candidates standing. Jason elected as Treasurer.
Events Secretary (previously Club & Media Secretary) – Richard Ford re-standing for position, seconded by Phil Allum. No other candidates standing, Richard elected as Events Secretary.
Membership Secretary – Kat re-standing for position, seconded by Chris Hopkinson. No other candidates standing. Kat re-elected as Membership Secretary.
Women's Officer – Sharon Bassindale re-standing for position, seconded by Kaye Ryan. No other candidates standing. Sharon B re-elected as Women's Officer.
Social Events Secretary – Sharon Yeates is standing for this position, seconded by Chris Hopkinson. Chris Hopkinson is not re-standing for position and no other candidates standing. Sharon Y elected as Social Events Secretary.