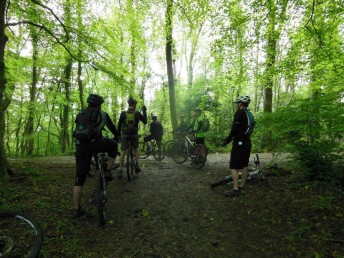 Gary Palmer is leading this challenging ride which will include some nice single track, bombholes, slippy roots and some tasty climbing.
The distance will be about 17 miles and should take about 3.5 hours. Although this is a relatively short ride, Gary stresses that the distance does not reflect the effort required to complete it!
If conditions are good, and people are willing, there will be the option to extend the ride. Gary will update here/Facebook on conditions and route as we get closer to the date.
Directions to the Haresfield Beacon Carpark: 3 miles (4.8km) north-west of Stroud, between A419 and A46. Follow Whiteshill/Edge road from Stroud. One mile (1.6km) after Whiteshill village at the top of the hill take left-hand turn signposted to Haresfield. Follow this lane for approx. ½ mile (0.8km) and Shortwood car park is on left-hand side. Take care as it's a narrow entrance.