Words by Steffan James   Photos by Darren Pettit
I arrived in Wantage just before 9.00 to give myself time for an on-the-day registration for the 50km 'Half Marathon'. This proved a quick and easy process, which left me with plenty of time to return to the car park and get my bike set up, which consisted mainly of putting the front wheel back on after taking it out of the car. All around me in the car park, people seemed to be taking their preparations very seriously – making fine adjustments to their tyre pressures, tightening cables, and so on – so I decided to squeeze my tyres, so that I, too, looked like I knew what I was doing! They were fine.
As I queued for a last minute visit to the portaloos, I met chap in a Swindon Road Club shirt and chatted for a while before heading back to the event village ready for the 10.00 o'clock start. The village was getting pretty packed by now, but I managed to find Tom Scott, Darren Pettit and Andrew Titcombe chatting with a couple of riders from Cotswold Veldrijden, and we were soon joined by Sean Bolton, too.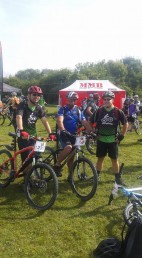 Unfortunately there was a fifteen minute delay to the start, which made for a lot of hanging around. Finally, the hooter sounded and we were off! Then, a foot later we stopped again, and repeated this pattern for the next five minutes as 700 riders filtered slowly though the ten foot entrance to the field.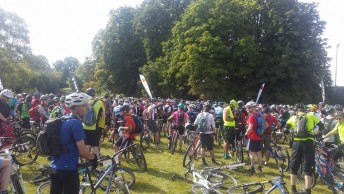 The pace picked up once we were on the road – which was closed for us by the police – but once we were off road, there were regular bottlenecks as paths narrowed leading to long lines of riders moving at the same pace and queues waiting to join the line. This carried on for about three miles, before wider trails allowed faster riders to pass and the pack started to thin out. Soon the riders on the 'Mini Marathon' turned off to reduce numbers further.
At about 8 miles, we approached what Strava labels as Slug Hill, which reaches 15%. This is one of those climbs which you see long before you reach it, and watching the riders ahead struggle up it – some having to get off and push – puts doubt in your mind about whether you'll manage it. However, I've had a pretty good summer on the bike so far, and was pleasantly surprised that I made it up without any serious difficulty.
A mile or two later, emerging from the woods, I recognised where I was; I'd previously been on a club ride here, led by Rafe, and quick gravel descent later I reached the first feed zone. A minute later, a rider arrived and headed straight for the mechanical support van as his pedal had sheared off.
Over the next few miles, I recognised several sections, including a long singletrack climb where I latched on to the back wheel of the rider in front and imagined myself to be Froome following Porte up Alpe d'Huez (although I didn't feel the need to put in a quick burst for the summit).
The following sections were a good mix of manageable climbs and some flowing descents, and I found that I was starting to recognise about a dozen riders who were obviously riding at the same pace as me. At about 20 miles, I met Tom, Darren and Andrew sorting out a couple of minor mechanicals. I pressed on, knowing that they'd probably pass me again anyway.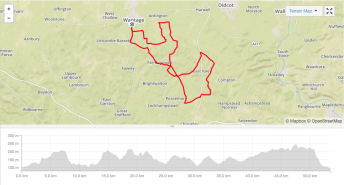 After one more climb and descent, the route started to rise steadily… and kept rising – just at 1 or 2% – for most of the remaining eight or nine miles. I found this pretty draining and had to stop at about 25 miles to stretch out a cramp. A lot of this later section was also out in the open, and the day was getting pretty hot by now (the others later opted for the 75km route instead of the 100 because it got so hot). Over the last few miles I joined a couple of other riders and we kept each other going to the second feed zone, curiously positioned just two or three miles from the end of the 50km route.
After a quick snack, it was a just a short stretch of the Ridgeway and a very fast road descent back into Wantage and the finish line. As I collected my finisher's T-shirt I bumped into Sean again. Not only had he completed the 75km route faster than I'd done the 50, but he'd also had time for an ice cream!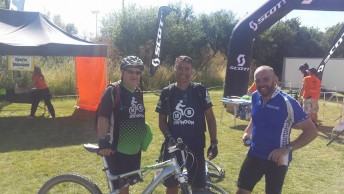 So then, is it worth paying money (£37 for an on-the-day entry!) to ride in places where you can ride for free any time? I do these very rarely (in fact this is my first proper MTB event, although I have done three sportives on the road) so I don't mind paying for an occasional 'treat' to myself, but it would get pretty expensive to do this regularly. I wasn't sure about the mass start: I'm not fast, but there were far too many hold ups at the beginning, although it does feel good to ride as part of such a large group. The feed zones and mechanical support are good, I enjoyed riding in some new places without having to think about my route at all, and who doesn't like attaching a number to the front of their bike like a 'proper' rider? So, an expensive day, but a very enjoyable one!