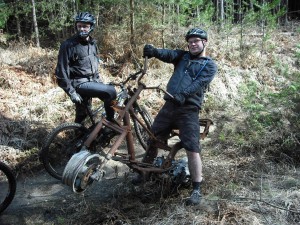 Swinley Forest is a great mountain biking area near Bracknell. This is an Alan friendly ride.
We've got a local guide (Steve Dunn) to show us all of the good stuff. He's a member of Berks on Bikes (I think).
We're meeting at 10am in the main lookout car park. That's the right hand car park of the two. Google map.
A permit has to be purchased to allow riding in the forest. It costs £2 for a one day pass available from the Lookout Centre. More info on permits.
Photos from April 2010. Back in the day!