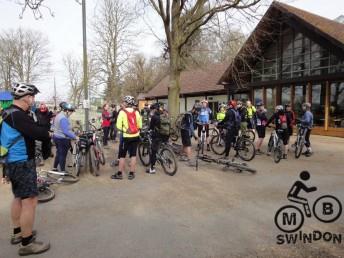 By Phil Allum
One of the many great benefits of being a member of MBSwindon is the sharing of knowledge, especially local route knowledge. 
This is the route I do if I'm short on time and have been round the Croft trail too many times already that week.
Riding to Lydiard Park on the morning of the ride I was wondering "would anybody else be interested?".  I really shouldn't have worried, as by the time I arrived there were at least 10 people there already. And they continued to arrive, on their own, in pairs or in small groups of friends, and soon we were in record breaking numbers. We had a good mix of people, with a great range of bikes all with the common idea of going for a bike ride.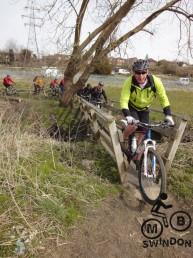 It was a magnificent sight looking back at the 33 riders snaking along the paths as we left Lydiard Park heading towards the outskirts of Shaw Forest. A loop round Peatmoor Copse & Lagoon gave us our first puncture, but with a good view from where we stopped, we made the most of it and took a breather.
The route through Shaw Forest snaked along, linking up all the best bits including the steep switchback descent, which most people enjoyed. Before cutting through Sparcells, we took a sneaky line up through the trees and down a muddy descent, which even the people who lived close to, didn't know it was there. This was quite slippery and was a good test of skill. I was most impressed that everyone had a go.
A bit of tarmac followed to link us up with the Wilts & Berks canal at Mouldon Hill, followed by flowing gravel that weaves up and then down the hill, with the sides making good berms for some! This joins Sustrans route 45, which was a good stopping point to repair puncture number 2.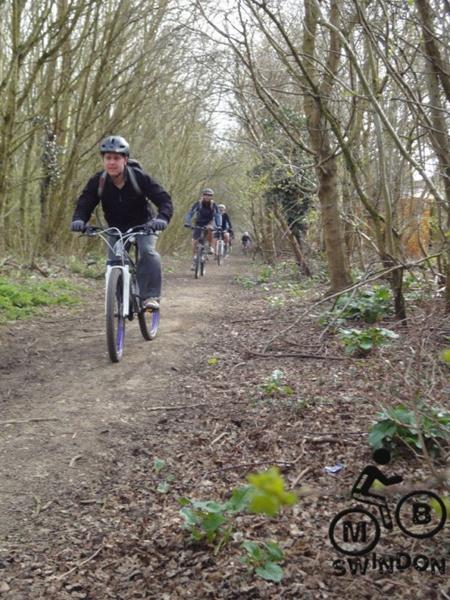 After being suitably refreshed, we headed down a little known track alongside the allotments beside Akers Way. We certainly got some looks from the gardeners, as our mammoth group snaked down the path and then across the narrow bridge at the bottom. 
A slog up Mouldon playing fields, onto Sustrans route 45 (now heading the opposite way) and onwards to the really low bridge.
I'm not sure of its actual name but as its a bridge and is really low "the really low bridge" sounds about right. 
For those who hadn't been under it before, it was a bit unnerving. You have to duck down which makes peddling difficult, and if you were on a 29er, well, I doubt you would fit at all!
All that was left after this was a bit of a sprint down the cyclepath to Blagrove (for those that way inclined), and then a ride through Grange Park and back to the cafe at Lydiard Park, where Kat unveiled a tin of the most amazing brownies! They really were fantastic and a well deserved treat after a great morning's ride. 
A big thank you for everyone that joined me on our Lydiard Park Urbanish ride, especially great to see so many new faces. It was nice to have so many great people to chat to along the way and I hope to see you all on a ride again soon.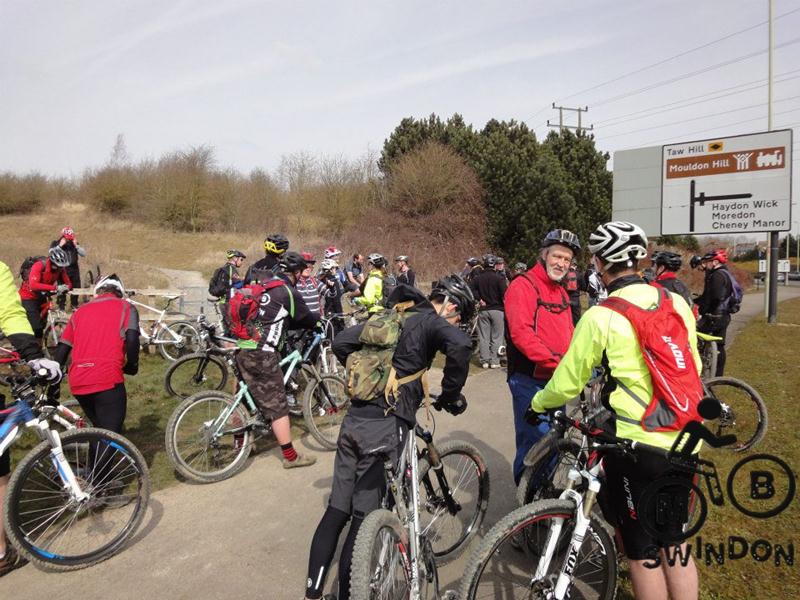 Everyone I spoke to had a good time, and commented on how varied the ride was. Its amazing whats on your doorstep, if your prepared to go off the beaten track and explore a little.
Approximate route map: OS Map, GPX. See www.bikehike.co.uk for a great way to create and view maps.
See our ride reports page for more ideas.