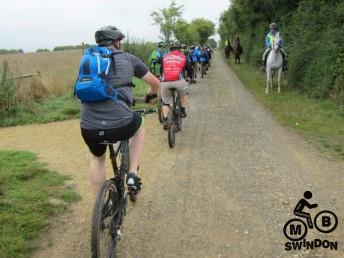 On a chilly Saturday morning, about twenty riders gathered in the car park of the Windrush Inn on the edge of Witney. There was a little bit of confusion as we worked out which club each rider belonged to (has anyone ever been on a ride where there wasn't a first timer or two?) but eventually we were ready to go. Although it stayed mostly dry during the day, there was a real feeling that summer was over and that we were embarking on the first ride of the winter. 
The ride got off to a vaguely comical start as twenty-or-so mountain bikers gingerly made their way over a chalky path made slippery by the previous day's rain; a fall is bad enough at any time, but taking a tumble on level ground in front of another MTB club would be pretty hard to live down!
Although there were quite a few sections of road during the ride, we rode on every kind of surface you'd expect on club ride. The arrival of winter was confirmed by the mud clogging our tyres and getting jammed in every moving part of our bikes.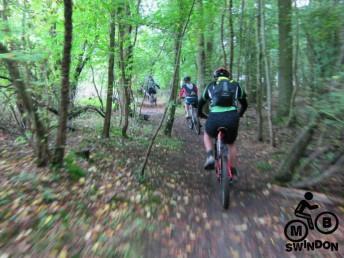 About five miles in to the ride, we started making our way along some twisting singletrack through some quite dense woodlands, and these trails continued, on and off, for the next five or six miles. There were lots of wet roots to be negotiated along these sections, and a slip by one rider would often cause a bottleneck of riders behind. At this point, Andrew was quickly coming to the conclusion that this had been the wrong day to try out SPDs for the first time. However, despite the occasional hold up, this was a real fun section of the ride… and things were about to get better!
We stopped at our first 'play' area of the day – a series of small bomb holes and interweaving paths which most riders chose to have a play on. This was the first time I had tried riding something so steep, and it was really good to be able to watch others do it before deciding to have a go. The moment you roll the front wheel over the edge is the difficult part, but after that things get a lot easier as you basically just hang on to the bike and let it take you to safety!
About fifteen miles into the ride we reached the woods at the edge of Stonesfield. As we crossed a little bridge, we were given a choice: go left to get to the top of the big bomb hole, or right for the bottom, where you could watch the others descend. Emboldened by my earlier success, I went to the top. This was a much bigger affair than earlier, being both steeper and much deeper. The advice 'keep your weight back and keep off your brakes' sounds fine… until the moment the front wheel starts to drop away and your fingers seem to reach for the brake levers of their own accord, but the experience was a real thrill, and after a minute or two I was back at the top for another go!
There were several paths to follow into the drop, and Dean joined some of the Witney riders in coming down the highest of them all.
Out of the woods, the group did a loop through the village so that we could ride down a series of steps. Again the group split: those who wanted to 'nail it' going at short intervals, before the rest of us would follow and roll the steps a bit more sedately. This was where the day's big drama occurred, as James, one of the Witney riders, came off at high speed. His helmet probably saved his forehead from hitting the ground, but in doing so it had pushed his 'safety' glasses down and cut his face.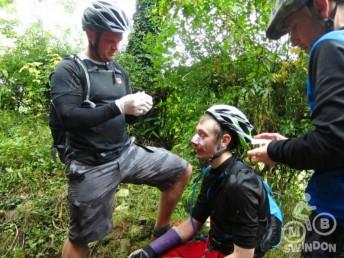 After all the recent discussions about First Aid on the Facebook group, we had a real-life case to deal with! Fortunately, one of our new riders, Ruan, turned out to be a former Army medic, and he quickly had James patched up and ready for a trip to A&E.
After twisty, rooty riverside singletrack and a long, steady climb, the last four miles took us along country lanes, through the northern part of Witney, and finally back to our start point. As most of us packed away our bikes, Tom expressed his disappointment that the ride had only been 37km, not the advertised 40, and promptly set off up and down the car park to make up the distance he felt he was owed. OCD, pedantry or a fanatical love of cycling? You decide (although there is other evidence to be considered.)
Many thanks to Witney MTB club for showing us around their area on a thoroughly enjoyable ride.
View the route: OS Map    GPX – right-click and select "Save As" to save to your computer