By Sarah Bailey
Whilst loading up my car, it was a lot foggier and colder than I was expecting so I wasn't envisaging many ladies turning up. However, on my arrival at Barbury Castle, there were already 3 hardcore ladies there. By 10 am, there were 9 of us raring to go – with me leading and Debbie kindly volunteering to be back marker.
Now it's a well-known fact that ladies' rides have good weather and we weren't disappointed as, 15 minutes into the ride, the sun started to make an appearance.  Obviously the gift of arranging good weather for ladies' rides has been passed from Sharon B to Debbie.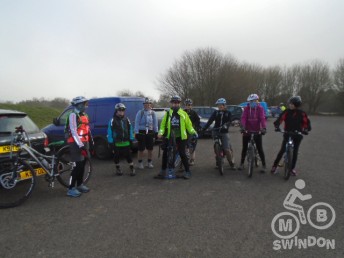 Heading across Barbury Castle, it was noticeable how much drier it was than when Debbie and I recce'd the ride – what a difference a week makes! Everyone negotiated the first descent without any issues so we carried on along to the old Ridgeway to the old railway line path and then onto the radio mast climb (and the less said about this, the better).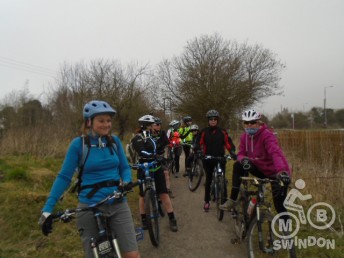 After re-grouping at the top and refuelling, we carried on – avoiding some puddles, going through others. Then on to a two-part descent – the first part flowing and the second part rooty and gullied. Everyone seemed to enjoy them despite the look of horror and/or concentration on some faces.
We then headed back to Barbury via the gallops and 4 mile clump, stopping halfway for a break and some food. Once back at the car park, there was cake (obviously) and a chance to watch kite flying.
Huge thanks to those who turned up. It was good to see regular faces (Debbie & Kat), old faces (Sharon B, Jen and Kate) and new faces (Sandra, Denise and Jane) on the ride.  Everyone was still laughing at the end so hopefully they all enjoyed the route.