Words by Phil Allum     Photos by Paul Allum
Way back in May 2012, MB Swindon did a great ride in the Mendip Hills led by Tom Stickland with some local knowledge coming from a chap called Antony, a member of the Bristol Trails Group. I remember the ride well; a good route with lots of rocky bits, a bone shaking descent down by a quarry and great views from the top of a hill. Proper mountain biking.
I decided that I would try and recreate it.
The first port of call was to the MB Swindon website to re-read the ride report from that particular ride to try and gain a few nuggets of information: start point, ride length, names of features, hills etc. These basics would form the foundations of the ride.
Now having the start point, it was time to start joining the dots together on a map, to try and build the loop. This bit was quite easy, due to the fact I could visualise myself on the map, climbing and descending the contour lines as if I was there. But then I started to notice things: An alternative bridleway, contour lines closer together, bridleways that miss out some tarmac. The original loop only lasted a few minutes before being modified.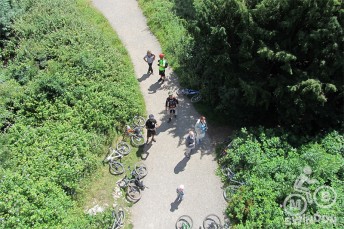 A bit of research revealed some great view points from the Cheddar Gorge Cliff Top Walk and a few more mouse clicks revealed that it is indeed very pleasing on two wheels (it may be called a walk, but it's actually a bridleway) so that was included as well. This also meant that we could ride up the Gorge road from Cheddar to get to the cliff top walk, something I hadn't done before.
So that was the route sorted, subject to it actually being rideable. A few emails later and the start point was confirmed: Simon from the Swan at Rowberrow was more than happy for us to use the pub's car park. The Swan is in the perfect location to start a ride, nestled at the bottom of Rowberrow Warren, with trails littering the hillside.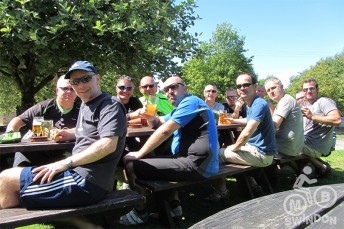 Next was to pick a date. Now remember this was all the way back in the depths of February, so there wasn't much on the calendar at this point. Sunday 19th July. Why? I've no idea; it just seemed as good a date as any.
I then scribbled down a bit of a description and gave it to our web pixies, who kindly put it up on the MB Swindon website events list. The ride was official!
Then the fun really started: recce rides! It is all well and good having a route on a map, but does it translate well on the ground? Is it even rideable? Without actually getting down there and riding it you just don't know.
As it turns out, the route was a goer, just requiring a bit of hike-a-bike in the middle. All good rides involve carrying your bike at some point right? We (that being my apprentice & I) even found a short section of man-made trail that somebody had built on the side of the Warren. Amazingly, the official ride was going follow the intended route. This rarely happens as normally somewhere is impassable, or a better alternative is found. But this whole route one was a good'un, so we decided to leave it as it was.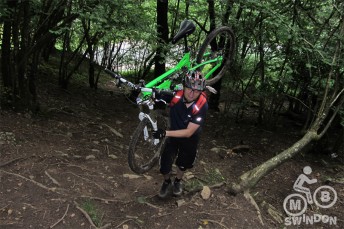 So with a finalised route and an approaching date, all that was left was a bit of last minute promoting and a few evenings doing the sun dance to the weather gods. As it was, they mocked me all week by threatening wet weather before finally taking pity on my feeble attempt at dancing and ordering the sun out at the last minute.
Sunday 19th July soon came and eleven fellow riders who had been lured by the promise of great riding (or was it the great pub?) met up on a sunny morning outside the Swan for the MB Swindon Mendip ride. How did it go? We had a blast. Proper mountain biking with a great bunch of people. The photos below capture the day quite well, with the stats looking a bit like this:
19.6 miles
2965ft climbing
4 punctures, 1 ripped tyre
1 good sit down by Rich Ford
250,000 stings from nettles
12 happy riders.
If you missed this one, then make sure you bookmark www.mbswindon.co.uk/events so you don't miss any more!