Words by Michael Duller
This was going to be my first time leading a ride at a trail centre, so there was some potential for some challenges. Josh and I arrived at Swinley with only minutes to spare due to a trainer issue, and we unpacked the car in a what seemed to be a very busy car park. Although at first I couldn't see any familiar faces, I needn't have worried as Chris soon rolled up from the car park, followed by Stew, Paul, Nick, Gary, Sean and Ania. Also joining us were Roz, John and another Gary.
It was a nice cold, crisp start to the day as the twelve of us started on the blue trail. With quite a large group, it was difficult to gauge what sort of speed to ride. It quickly became apparent that, because of the mixed abilities in the group, it was best to ride at my own speed then wait for the others to regroup at the end of each section.
The first section of the blue, though not technical, was quite fast with some nice sections that flowed really well, with a few small climbs to keep the legs pumping. The group had quickly warmed up and the first stop was a good time for some to shed a few layers.
Finishing the blue section, we encountered our first mechanical, with Josh getting a puncture. I also had to change my rear tube due to a slow puncture.
Moving onto the red section, we rode through what is known as the 'tank traps', which is a fast, winding section with the final bit ending in what resembles a world war one trench. This is one of those sections that make you want to ride it again.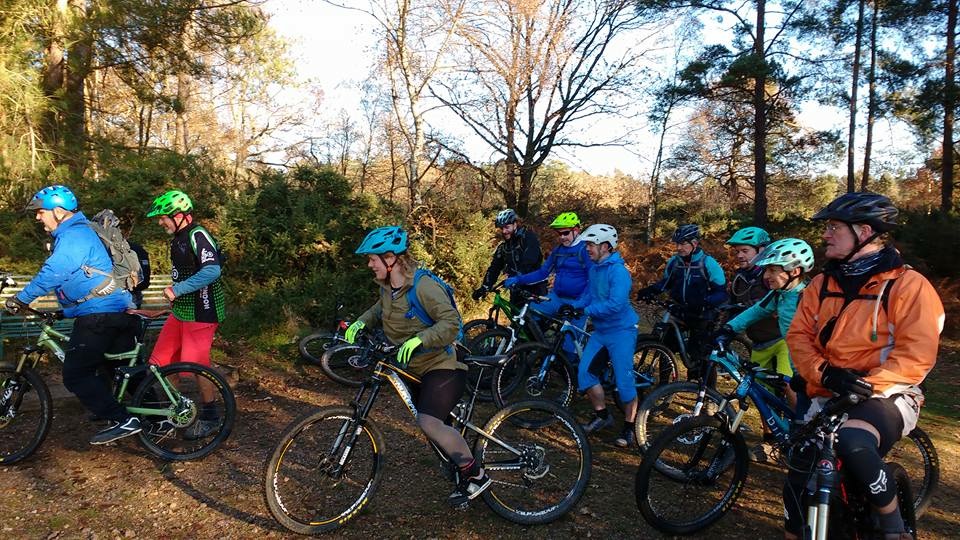 We continued on through the various sections of the red trail until we got to section 6. With the local knowledge of John, Gary and Ania, we sampled some of the old trails with John leading us around some nice sections which have a really natural feel to them, with some nice little technical bits to spice it up. After the off-piste bits, Ania and Roz decided to grab a coffee so we said our goodbyes.
We  re-joined the main red section to ride some of the best bits of the red trail. Unfortunately, Josh got another puncture and was presumed missing for a while, until he caught us up at the Labyrinth, which is a great descent with lots of ruts and roots.
After completing the red trail we finished the remainder of the blue; the two sections before the final section are, in my opinion, two of the best bits of the trails, and are a real good end to a good day out.
Though we only covered about 16 miles, I think the group were suitably challenged and enjoyed a good day's riding. We finished off with coffee and cake and swapped a few stories at the café before heading back to Swindon.