This was a novice friendly ride.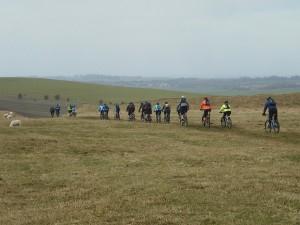 Five of us rode to Barbury castle from Swindon. We arrived at 10:15am when the last car had just arrived. We had a good turnout with 21 riders. The morning had started out bitterly cold but as the sun came out then there was a definite feeling of spring in the air.
Rafe took us on a route round the ridgeway, through some muddy single track and down into the Rockley. We had a bit of play on the roots just above Rockley.
We spotted some unusual pheasants which were later identified as Reeve's pheasants.
The novice friendly rides always turn out to be a great social event, with the pace allowing an opportunity for conversation and also a chance to take in the settings. It's great to be meeting so many new riders on these events too.
The group opted for the mid range route option after Rockley, taking the old railway line to Ogbourne St George and then back up Smeathe's ridge to Barbury.
Those who came on bikes then rode down to Ladder lane. This was a bit too muddy to take full on. We then met up with some of the drivers at the Croft Trail where we did a lap of the trail and spent a bit of time looking at the plans for Piper's hill.
We then rode to the Check Inn for some afternoon beer. As the sun started to go back in at 4pm it became cold again and we rode back to wherever it was that we came from.
The main loop was 14 miles (22km). We did 30 miles (48km) in our complete loop from Swindon.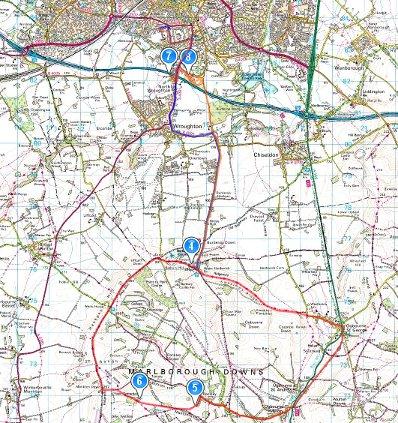 (sometimes have to wait 15s for route overlay to load….if you're lucky and it loads at all).