Words and Photos by Phil Allum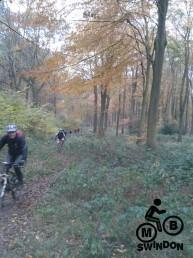 Back in February we rode this route in freezing conditions, with rock solid frozen ground. In the summer, Richard Ford took us around parts of it in lovely warm, sunny conditions. With the lack of rain, the ground had been baked hard by the sun. But today, a mild November day, it would be different. This time the ground would be soft…
People arrived not only by car, but cycling as well. Nick & Shaun from Calne, Andrew from Chippenham and Allan from Swindon. I felt a bit lazy, sitting in the car drinking coffee with the radio on. By 10 am we had 12 riders in total; great turnout.
As the 11 other riders readied themselves, I could hear chatter about mud tyres, mud guards, waterproofs, snorkels and the like. 'Yes,' I replied to most, 'there's a chance of some mud'. This was evident as soon as we set off. The bridleway from Silbury Hill to Avebury was a gloopy mess. This would be Fun! We took the chalky climb eastwards out of Avebury, crossing the Ridgeway and past the Sarsen stones. This proved a good warm up and soon layers were coming off.
Going around the gallops at Clatford Downs we were soon on a narrow muddy descent to Clatford Bottom. It's flatter at the top with a few turns, but it gets steeper and straighter further on. Even in the mud, the speed was soon building. I could hear the whoops of laughter behind me, then all too soon it was time to slow down as we approached the A4.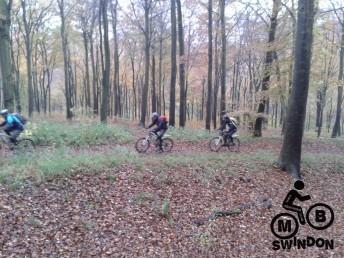 Crossing the A4, we took a minor road towards Lockeridge, whereupon turning up the bridleway that would take us into West Woods, Jamie snapped his chain. With this fixed in double quick time, we continued into West Woods, where Malcolm had a stick flick up and, with a nasty metallic crunch, pull his rear mech into his back wheel. The mech was totalled, with one side of the cage snapping off. He managed to straighten it enough that pedalling was possible and decided he would limp it back to the car on the roads. We were now down to 11.
West Woods was a bit damp. OK – it was a bog-fest! The key to success was not stopping. If you could build the speed up, it was all about drifting through the slop. Too slow and you would get bogged down and sink, making it twice as hard to move. This was probably the hardest half mile of the day. Riders emerged from the forest with mud hanging off every conceivable place.
All were relieved at the sight of a bit of road, with the chance to shed some of the mud. With the whirl of knobblies on tarmac, mud flying in all directions, we were soon at the car park by Matinsell Hill. I had promised 'some of the best views in Wiltshire' but as we gazed up at where the Hill should be, all we could see was mist and fog. Oh dear! We soon started climbing, this hill being the hardest climb of the day, with most managing to conquer it. A stop at the infamous Matinsell Hill bench for lunch, minus the view, allowed Andrew the time to fix his puncture.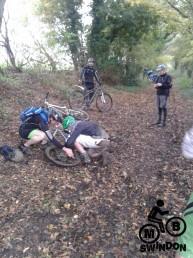 Heading along Oare Hill (another snapped chain here and Graham having a few technical dismounts) to Huish Hill, a previously unnoticed bomb hole was spotted and the next 5 minutes were taken up playing in it. It was a bit overgrown, as these things tend to be. Jamie Flanagan was awarded top marks for 'most ridiculously unrideable line'.
Into Gopher Wood, which was as dry and dusty as West Woods, and out along the ridge line past Golden Ball Hill and down to Knap Hill. From here, tired legs climbed us up onto the Wansdyke and we turned and headed west. The fog now completely gone, we had great views of the Vale of Pewsey to our left, the Marlborough Downs to the right, and you could just make out Cherhill monument way ahead in the distance.
As we traced the Wansdyke, tiredness was setting in for some, but luckily we were at the top of the last hill and it was all downhill from there. Not that anyone believed me, as I had been saying this all day! A rutted byway dropped us into Beckhampton and all that was left was 200 metres of tarmac to carry us back to the car park at Silbury Hill.
Another great day out with great company. It was a hard 23 miles, but worth the effort.
As we've covered most of this route in Winter, Summer and now Autumn, maybe we should have a revisit in the spring? 
View the route: OS Map  or  GPX – right-click and select "Save As" to save to your computer