Words by Gary Lee
Photos by Gary Lee and Hilda May Latham
Quantocks Revisited is quite an apt title; we came here as a club about two years ago and had not been back since – it's been far too long. Not as far to drive as Afan and only a little further than Cwmcarn from Swindon. The big plus is no bridge toll to pay.
The weather man said to expect rain in the afternoon. It was dry but looked gloomy overhead in the morning when we pulled into Holford, along the A39 just past Bridgewater. The rain started spitting a bit, but looked like it was holding off. The temperature was a mild 12 °c on the temperature gauge. Big decisions had to be made: rain jacket or softshell; merino wool base layer or synthetic; electric blue or tennis yellow top? Oh! Hang on….
I was looking forward to this one – my first time leading an official MBS ride. We'd already done a recce ride a few weeks back, but there's still plenty of scope to get lost in the Quantocks. Switch on the Gary Nav.
This also happened to be the first outing of my new Santa Cruz build after a warranty replacement. The evening before, I was just clipping off the last bits of cable tie on the new frame… it's such a satisfying feeling isn't it?
I started doing my pre-ride checking to make sure everything was screwed on tight. The customary bouncing up and down around the car park ensued as I tried to convince myself the suspension set up was perfect. I knew one thing though… I'd just fitted new low friction PUSH seals from TF Tuned on my Pikes. They felt nice, and this was the perfect ride to test them out.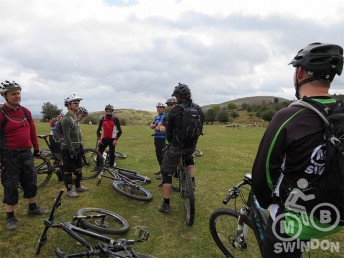 It was good to meet up again with a few club regulars.  Surprisingly, it was the first time for many of them to ride the Quantocks.  A new face appeared, Alfonso from Chippenham (he's originally from Spain actually) on a 'try before you buy' ride. It's always good to see new faces on rides. Personally, I think it's partly what these rides are all about. People turn up, have a great time and then join the club.
With the preliminaries out of the way, we set off up the bridle path on a steady climb.  One thing about the Quantocks… it's quite hilly! The gentle ride up through woodland with a nice scenic stream-crossing quickly becomes a sharp technical climb with a left hand switchback. At this point I took the opportunity to stop and look back to check the  group. Most of them were pushing. The higher we got, the looser the ground, with small pebbles turning into rocks. When we reached the top, jackets and top layers started to come off. Nice little warm up then! Catching our breath and looking around, we got our first glimpse of the grassy heathland scenery. There were a few sheep grazing and a couple of walkers here. A small herd of red deer ran across the heather and gorse in the distance. This was going to be a good ride.
We regrouped and dropped down to the first little fun descent – into a tree lined ravine, with a few little narrow techy bits – which finishes at another stream crossing at the bottom and the path splits up in several different directions. This is a very typical feature of the Quantock hills. They can all look very similar and can mess with your navigation. I pointed "that way" and we carried on up another climb through two gates and came to an open field… and then I realized we had gone off course. I carried on like it was all planned – I knew the general direction and followed my nose.  All was well when we crested another hill and I could see where we were headed. We stopped and everyone took in the scenery whilst I recalibrated Gary Nav. There's a spectacular view of the Bristol channel and the Jurassic coastline from here, with a good view of Hinckley Point power station below and Wales off in the distance.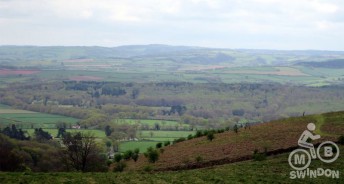 We rejoined the path where I had originally planned to end up at. There was a lady on a horse who kindly gave way to us whist we rode through a narrow, almost hidden track, through the gorse and up along a steady upward traverse around a big hill. At this point the sun came out and shone through the silver-covered birch trees and lit up the path in front of us. I forgot about the tired legs and took in the amazing scenery, with just the sound of our tyres rustling through leaves and small twigs, and heavy breathing. The climb then levelled off nearer the top and became fast and flowing single track. The ground had dried and was riding very quickly compared to a few weeks ago.
We reached the road and carried on past two car parks. We saw other bikers and walkers parked here and it looked quite busy. After a short stint of road, we were at Triscombe. There's another car park here which is popular with with DH riders.
I was determined to get everyone down at least one of the DH runs. A brief description was given by me to everyone on what to expect, but I didn't give too much away. I find it best to just ride and not think about it too much. Saddle down, off I went down one of the main runs – "just follow me". It starts with a nice flowy section down through a S bend onto a rooty berm, and over a hidden drop on the right.  Into the trees, it steepens into a series of  turns and little steps and kickers.  Half way down, there's a jump I remembered well from last time which I cleared and landed onto a small compression and slingshot back up the other side. Then, it was onto the next series of turns and step offs down onto the fire road.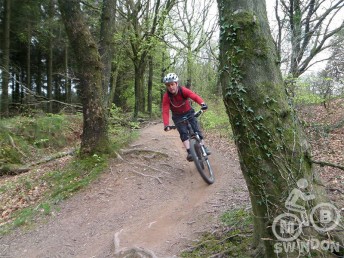 I quickly turned round to see who was behind me. At this point, I wondered whether I should have mentioned the jumps and the fact that you could ride around them. One by one, the others appeared with big grins and their faces. I need not have worried – everyone made it down successfully without incident and rubber side down.
Back on the bikes, we spun back up the fire road climb. We then decided to rest and have a bit of lunch back at the car park. Once we had munched down our flapjacks and sandwiches, we were ready for more. Some opted to rest at the car park while the rest of us went for another two runs.
We went searching for that elusive trail which I had done back in 2013 but couldn't quite remember where it was. In the end we found a different route down and ended up doing part of the Three Kings descent. Saddles back up and granny gears selected, it was back up the fire road again for another run. The last run down was similar to the first but ended up a little steeper and finished further down the fire road. There is so much here that I wished we could ride them all, but that would require an uplift service or an e-bike with several spare batteries. There are supposed to be around forty separate trails – it would take a while to ride them all!  It's definitely worth a return visit just to do the DH runs. And yes, there is an uplift service available.
It was time to head back to Holford. There was still a lot of pedalling to be done and probably the best is yet to come. We headed over towards Great Wood. The almost 100% natural single track through the trees is just awesome. Dropping in from the fire road, there are tight turns dodging the trees, roots and step offs, wooden logs and jumps. It's not steep but still technically challenging, and pedalling is still required to maintain speed. Out of the trees, we followed the track alongside the cliff before we came to a tight left hander into a zig-zag, back into the dark overhang of trees and a fast descent down to the road. Pick your line carefully along here otherwise you'll end up in a big rut. I took the high line on the left, getting plenty of grip from the High Roller IIs on the loamy surface.
Down at the road, we went through another car park and then had a long drag up the last fire road climb. Passing a busy picnic area, we could smell BBQs which made us all feel a bit hungry.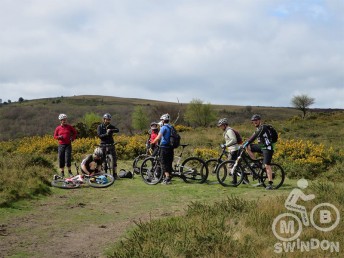 We reached the road we had ridden along earlier and it was time for the finale – the descent back down to Holford. The top part starts fast and weaves through the trees and then ground becomes increasingly loose. This turns into a big rock garden and it's difficult not to lose speed. I felt the wheels pinging off the rocks and felt the advantage of those slippery stanchions and the new seals on the Pike. Once past the rock garden, you follow the the hill down alongside the stream, crossing it in different places. There are narrow, rooty, off camber bits which you have to clear on both sides of the water. There are several line choices in places which provides an opportunity for overtaking at speed… if you feel brave enough.
The gradient flattens off halfway down and we stopped to regroup.  Lucky we did – no sooner had we picked up speed than we were confronted with a large fallen tree.  As we approached, there was a young couple with their two children on the other side of the tree. The father was chipping away at the branch with a small axe and carrying a baby on his back. The baby seemed to be enjoying it. Then the mother decided she wanted a go and grabbed the axe and started swing away with it. We left them to it – I had a feeling they were going to be a while. Just one more gate to negotiate and it was back along the road to the car park.
All good rides finish at the pub, and there's quite a good one in the village called The Plough. They cater well for mountain bikers with a beer garden, a good selection of beers on tap, a very good food menu and even vegetarians can eat well.
Having returned to ride the Quantocks, I am determined to come back soon for more –  I won't be leaving it another two years again! I think another recce ride is in order, so watch this space. Special thanks to all the riders who turned up.
Riders:
Pete Latham, Hilda Latham, Richard Ford, Jonathon Shepard, Alfonso, Andrew Titcombe, Graham Burgess, Paul Broderick, Gary Lee