words and photos by Tim Norris (Read more by Tim here)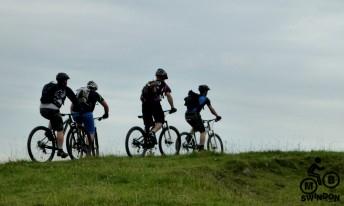 We had a great ride yesterday around some of my local trails and tourist attractions. Roundway Down, Beacon Hill and Morgan's Hill are local nature reserves and popular walking spots with stunning views on a clear day. It wasn't the nicest day for views – slightly overcast and grey – but this meant near perfect riding conditions. We also rode along 7.5km of the Kennet and Avon Canal from Seend and through Devizes. This took us along side the Caen Hill lock flight where 3.2km of canal rises 72m utilising 29 locks. Quite a site and the canal-side ride was a surprise hit with the 15 riders who came out.
After the steep climb from the pub to get everyone warmed up, we rode out on to Beacon Hill for our first bit of fun. While we tended to a slight mechanical fault, a number of the group had some fun in a small grassy bomb hole at the top of the first descent. This was good fun and our first opportunity to take some photos.
The short but fun descent from Beacon Hill is one of my favourite descents in the area.It doesn't take long to get from top to bottom, but it has some twisty, cheeky turns and is quite steep in places. My aim with this ride was to show everyone the obstacles first so they could ride them with confidence. This is difficult with a descent so after everyone had a go we did a quick ride up a local killer climb so we could do it again -100m up Heddington Steps. This is a tough chalky and loose surfaced climb that tests the locals, so helmets off to everyone for pedalling all the way up. Then we hit the descent for the second time and as if it had been rehearsed, Gary Palmer, Gary Yeates and myself headed off first and found spots for some photos.
This time we carried on at a good speed down the rest of the hill along the farm track to Bromham. A puncture here meant we had chance for a rest and the opportunity to look back at where we'd come from.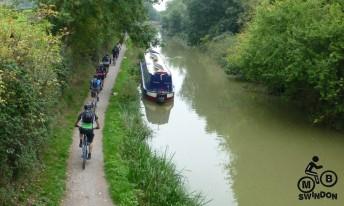 Following a fast Tarmaced link through the farms in Bromham we arrived at Seend where we would join the canal. Not before we stopped to notice the nail in one of our tyres! Amazingly no puncture was caused, so after a quick breather we carried on and took the canal towpath to Devizes. I was unsure about this section of the ride, at first dismissing it thinking it would be a little boring, especially if it had started to rain. As it happened, this turned into a bit of a race! The pace was set by a few of the guys upfront and any lost time I was concerned about with some previous punctures was more than made up for. Shame, 'cos the locks would have made for a great group photo!
Little did they know that at the end of this 7.5km fast pedal we would then have a short but steep climb up onto Roundway Down. This meant that we had spent 8km going gradually up hill, rising a little over 200m all in approx 40 mins.
Following a refuel stop at the top we entered the Leipzig Plantation for some rewarding single track and a chance for a few to hit some jumps. (I don't have any photos from here cos I was having too much fun!) This will certainly appear in a future ride as I have a feeling that a few that weren't present would like to ride this bit.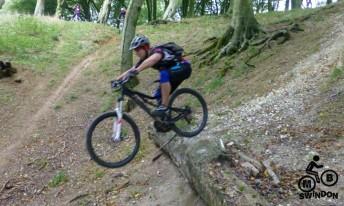 A gravel track and a climb up to Morgan's Hill took us to Furze Knoll. The bomb hole at Furze Knoll is always a bit of fun. The are numerous ways into the bomb hole from the straight fast ride in, to the rooty drops around the side. However there has been a particular drop that has beaten my nerve every time I ride up there. But thanks to some encouragement and pack mentality 4 of us controlled the steep descent down the side and then released the speed and dropped over the fallen tree near the bottom. After clearing the exit of some random branches and loose stones it seemed, as always, that this was something I could have done a long time ago. A highlight of the ride for me.
After Furze Knoll we hit the farm track at speed and headed over to Heddington Steps for our final downhill of the day. We had climbed the steps earlier in the ride and my plan with this ride was to let people ride descents they had gained some familiarity with. This meant there should have been no surprises.
After letting rip down Heddington Steps we followed the road back to The Ivy Inn for a well earned beer, cider and a bit of food. Thanks to everyone that joined me on this ride.I hope everyone enjoyed themselves – I certainly did.