By Kristian Price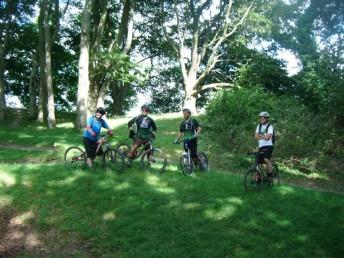 11 riders met at the Small Grain Picnic Site (SN10 2LP) between Devizes and Calne on what was already a very warm Sunday morning. Why do these ride reports always begin with a meteorological report??
From the rear of the picnic site we rode along a byway forming part of the Wessex Ridgeway with fantastic views across the North Wilts countryside towards Calne and Cherhill.  You can't have it all!!
Part of this ride incorporated the Wansdyke Path, an historical ditch and bank defensive feature some say dates back to the 5th century. More information can be found at http://www.wansdyke21.org.uk/wansdykehomepage.htm.
We rode the Wansdyke here from west to east, which despite the initial climb, I feel is the best way as it's a downhill ride to join a byway overlooking the main Devizes to Swindon Road. From here the route travelled alongside the race horse gallops to Beckhampton.
We had an impromptu skills session in Knoll Woods, near the A4 car park at Beckhampton, practising some drop offs and small jumps on the natural banks. There was much discussion about the best lines down the rooty banks, with most people attempting a run.
We stopped at the Divine Cafe in Cherhill for a well earned rest, slice of cake and a drink; before attemptimg the steep climb to the Cherhill Monument!! . The Divine Cafe is a great place to stop on a ride around this area and was evidently quite busy when we arrived.
Rather than ride back along 2 miles of road, we decided to take the bridleway to the right of the White Horse and Cherhill Monument, which is a fairly eroded, chalk based path, with some steeper sections in places. It's often necessary to get off and push here, but there's no shame in that!!
From the rear of the Monument, we could see most of the route that we'd travelled previously. All that effort in climbing was now rewarded with great grassy downhill run back towards the car park. Caution though, as there is often walkers on this section.
Some GPS units recorded a temperature of 29 degrees on this ride – definitely a warm ride!!
As always, it was great to meet some new club members and I hope to have a another novice friendly ride booked in soon.
More photos here.
Map OS Map, GPX. See www.bikehike.co.uk for a great way to create and view maps.