Ride reports from Forest of Dean (include other trails and rides): September 2010 (novice friendly), November 2010.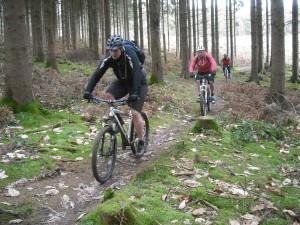 We met at 10am (+/-15 minutes) in the Pedalabikeway car park. Despite the cold day we had 17 riders. We did the first half of the FODCA trail and then branched out onto the 10 mile enduro route. This is a great bit of natural cross country singletrack.
As usual we spent a bit of time at the bomb hole. Youtube video.
We modified the route slightly towards the end and did another bit of single track that I really like. This finished with a steep descent off a spoil heap.
We then did one of the downhill runs and rejoined the 10 mile route. Sadly the last section of this was totally wrecked with bulldozer tracks.
After a big feed at the pedalabikeway cafe some of the party went home whilst the rest did a full lap of the FODCA trail. This is a really fun trail. There were some new bits – a few massive berms and a wooden section over a boggy area. The trail is built and maintained by volunteers. Dean Trail Volunteers website.
Big thanks to everyone who came for another fun day out.
Route maps: Endomondo GPS log | Bing map
Previous ride reports: 7th Nov 2010 | 5th Sept 2010 Novice friendly