Words and photos by Kristian Price

Sunday morning dawned bright and breezy and, as usual, I had an entirely dry ride planned for the 17 riders who turned up for this ride out to the Cotswold Water Parks. Dry, that is, from the sky; I never said anything about the condition of the paths around the Cotswold Water Parks!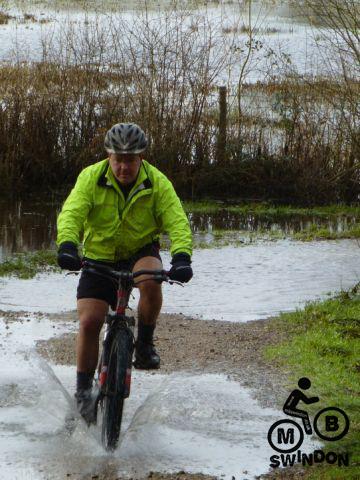 After weeks of heavy rain, the fields, former gravel pits and River Thames had amalgamated into one massive lake. The path through the Water Park was completely submerged and not safe to ride as the depth was unknown, and the location of the river banks and deeper water a complete mystery.
This route is a good introduction to those who want to ride as a group, being fairly flat and ridden at a gentle pace up to Walters Cafe at Wickwater Lane. This cafe is always popular with cyclists, and on speaking to the owner, he is thinking of adding more bike racks closer to the picnic tables this summer.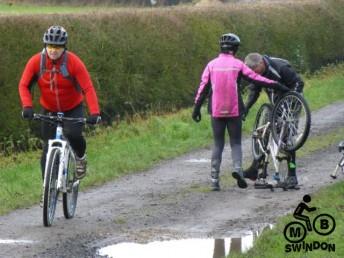 On the ride were quite a few regulars, a few newcomers, and some of the other ride leaders taking a break from their leading duties. It's great to ride in a group with the usual banter associated with MB Swindon. Today's topic appeared to be puncture related puns. Apparently, puncture repair kits are not a patch on what they used to be. (© Tommy Scott 2014.)
Cutting the route short due to the flooded paths, we returned via the same Route 45 cycle path we'd taken on the way out. Somehow we'd managed to collect 6 and a half punctures today throughout the group with Phil Rollinson having the half puncture  and the eternal will it / won't it go flat and do I leave that thorn alone? question. Recent hedge trimming had left a plentiful supply of thorns on the old railway line from Cricklade to the Cotswold Water Parks.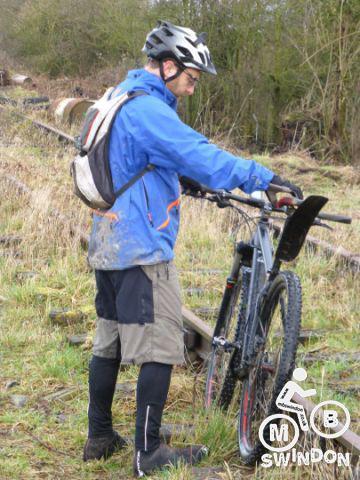 In the end, we covered 15miles in total with only 72ft of climbing over that distance. Possibly the flattest MB Swindon ride ever!
Thank you everyone, and I hope to see you on another ride soon. Remember, it's the North Wilts ride on Sunday 9th February starting from the Smallgrain Picnic Site between Devizes & Calne.
View the route: OS Map    GPX – right-click and select "Save As" to save to your computer