Words by Phil Allum
Bike Park Wales opened in August 2013 providing plenty of downhill trails for people who prefer letting gravity do the hard work. They have trails to suit all riders, from the 'wheels firmly on the ground' to the 'f*%@ it, let's huck it' brigade. Starting with the flowing blue runs like Melted Welly and Willy Waver, through the drops of the red runs like Wibbly Wobbly and into the gnarly rock gardens and lairy gap jumps of the black runs like Dai Hard and Coal Not Dole. If you like trail centre descents of any grade, you will find something you like here.
The club last visited Bike Park Wales in March last year, so it was high time for a return trip. Back then, there was only one uplift bus running. This time, as it was a weekday, they had 4 buses running. At weekends this increases to 7. Once the uplift got going, it was clearly a slick, well practised operation. There was always a bus being loaded when we got to the pickup point, meaning minimal waiting around and maximum time on the bike.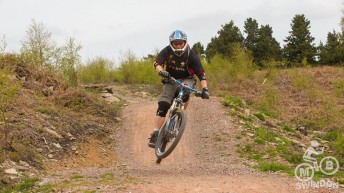 Most people started the day on the blue runs, finding their legs and getting into the swing of things, before trying out some of the other runs. With 7 blue, 7 red, 9 black and 2 pro lines (not all starting at the same place I should add) there was plenty on offer.
It appears they have been busy since our last trip: a new start ramp at the top and 'qualifiers' for the reds and blacks. A qualifier is basically a feature at the beginning of the trail that has to be ridden in order to 'qualify' for the actual trail. If you can't ride the feature then you shouldn't ride the trail, that kind of thing. In reality, the qualifiers were far more difficult that the rest of the trails.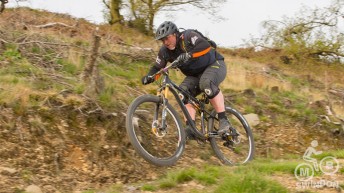 As the trails were all different lengths, each bus you boarded would have some different faces on it. With so many MB Swindoners there, it became customary to have a good chat with someone and then join them for the next run. Over the course of the day I think I managed to ride at least once with everybody, covering all the trails that I wanted to do.
A new red run – the A470 – and a new black run – 50 Shades of Black – had also been added since our last trip. The A470 was a smooth, jumpy number with big tabletops being the dominating feature. Perfectly rollable at slower speeds but providing big airtime when hit at full beans.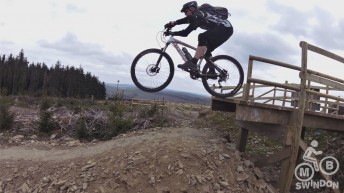 Having a spread of people with varying preferences meant that everybody had their own favourite trail. A lot of folk liked Sixtapod for the flow due to it being like a long pumptrack. Some votes clearly went  for the Vicious Valley & A470 combo, as those were probably the trails with the most traffic. For me it would be a toss up between Dai Hard and 50 Shades of Black. I did a few runs down Dai Hard and loved the natural feel of it, but then Tim Norris and Paul Broadrick convinced me to join them down 50 Shades for the last run of the day, which made me realise I should have done it much, much earlier. A great trail with big fireroad gap jumps and bone shaking rock gardens. As I rode it too late in the day and lacking the energy to be fully committed, I'm looking forward to doing that trail again more than any other.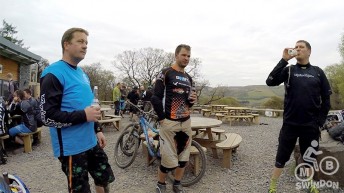 After notching up 10 runs over the course of the day, there was only one thing left to do: sit down and retell the stories of the day whilst supping a local brew. I can thoroughly recommend their Dai Hard wheat beer! A fitting finale to a great day on the bike.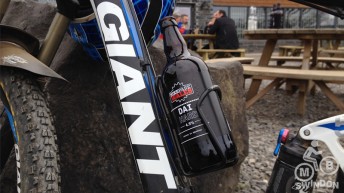 A couple of small hiccups tried to put a downer on the day; Ed Butcher having to call it a day early after having a particularly nasty crash. And Neil's bike falling off the trailer and taking literally all day to be found. Neither issue will have any lasting consequences, Neil got his bike back in one piece and Ed's face is healing well and will be back doing his modelling again soon. I promised I wouldn't mention Graham and the missing wheel.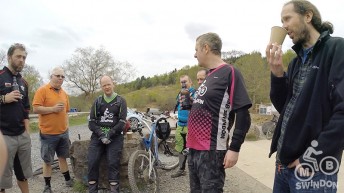 We will be going back again soon, hopefully in August. So if you want to come again, or if you missed out this time, then keep an eye on the events page for future updates.