Words by Tim Norris   Photos by Gary Palmer
After a recce ride earlier in the week I was beginning to get concerned about the Novice tag on this ride, and when the attendance figures looked like they were going to climb above the dozen or so I expected, I was a little worried that this was going to be a Novice Ride too far.
A dry few days, blue skies and the promise of a new ride location for some, drew out the numbers and 25 of us left the car park and headed up the first climb-slash-push. Though we hadn't seen any rain for a few days, some parts of the trail were still a bit sticky. The views from Morgan's Hill make it worth it and with plenty of blue sky it was looking like a day clear of rain was ahead of us.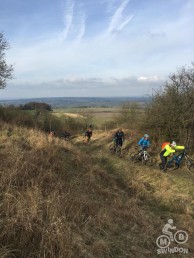 At Furze Knoll the cameras came out and the brave ones had a go at the bomb hole.  Its not too steep but it is quite deep and daunting if you haven't ridden anything this before. The mass of sticks and fallen trees at the bottom made it extra interesting and thankfully we only had one minor incident.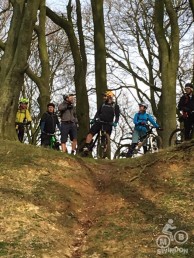 The journey across to the Roundway and Oliver's Castle is quite a tame farm track and it gave the group the opportunity to thin out a little and have a pedal at their own pace and have a chat and catch up.  Unfortunately, just before one of our group could enjoy the great views from the hill fort, there was a major tyre blow-out incident. Despite the combined efforts of a number of the group, new tubes, cable ties and gaffer tape, Ben had to turn back with instructions for his hour long walk back to his car!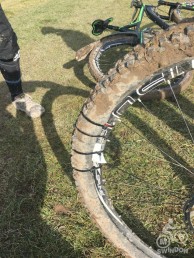 The views are great at Oliver's Castle however the wind was pretty cold and we had to move on as soon as Ben was off in the opposite direction.
We headed to a new local trail with some not-so-Novice features and, as with the bomb hole, the brave had a little play on the switchbacks and step downs. This was my favourite part of the route.
Some more byways and farm tracks had us making our way back around Furze Knoll, crossing the Wansdyke and eventually picking up the track back to the starting point.  We had one final short steep climb to attend to that brought us back on to Morgan's Hill and then we split into two groups for some off piste action back to the main track and eventually the car park.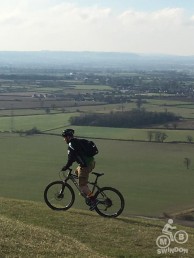 The weather had been really kind to us and most loitered in the car park chatting for a short while before heading off.
Thanks again MB Swindon for being good company and for patience with the cold as we waited and gathered at points along the way.