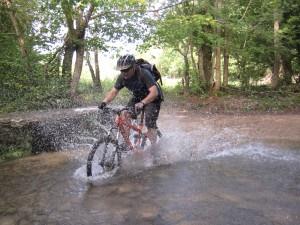 This was a novice friendly ride – check our calendar for more.
The early morning rain gave way to sunshine by 10am when we met at the Castle Combe car park near the famous motor circuit. Kristian Price had devised a 16 mile cross country loop for us. We had twelve riders present plus Tony's daughter on a tag along.
Taking in a mixture of bridleways and lanes the route turned out to be a lot more entertaining than expected. Some sections were surprisingly steep and rocky. The water crossing presented a great photo opportunity. Too bad that I missed Chris Dewhurst falling in. He wouldn't do a second take either.
We called in at the White Hart at Ford, the pub with the answer to everything on their menu. Just don't ask for food if you are "the other side of the bridge".
We were back at the car park just after 2pm. A great turnout and a lot of fun. Thanks to Kristian for the route and everyone else for getting on with it.
Route Map