James Scott of the MB Swindon Gravity Team gives us another report of the weekend's racing.
Round 3 of the Red Kite / Empire Bikes Enduro and it was another     cracker. This time around the loop was shorter coming in at around 23km and 900+metres of climbing (if you rode the stages in order).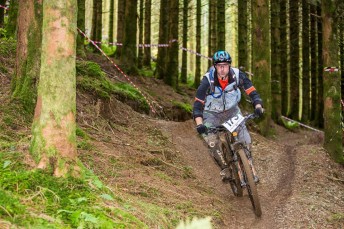 The format remained the same with practice Saturday morning on stages 1-4, then in the afternoon we raced stages 1-3 and Sunday was racing 5 stages with stage 5 being raced blind – got that? Good, lets proceed!
I arrived at the Coed Trallwym trail centre at about 9:30 Saturday morning to register, was shortly joined by team mate Phil Allum and Leon Cardy-Stewart and almost immediately we were advised to give stage 1 a walk as it was the most technical and steepest stage of the race… intriguing. Luckily we could see the finish line from where we'd parked so wellies were donned and off up the hill we went. Straight away we could tell how much fun it was going to be with truly freshly marked out tracks – barely a tyre track on them! A third of the way up the hill we faced steep bit of the stage, several switch backs cut into a muddy hillside meant that you'd need some confidence in your front tyre grip. The track "flattened out" towards the top so we skipped that bit and walked across to join stage 2 which was a trail centre descent promising some good speed, jumps and drifty flat corners.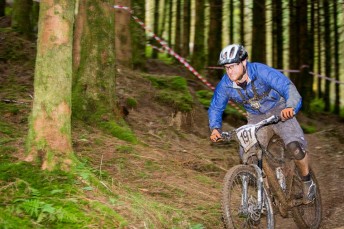 Back at the carpark the bikes were straight out and after meeting up with Gary Lee and enduro newbie Richard Rowe we pedalled up to start practice. The climb up to stages 1 and 2 was surprisingly manageable, maybe we had a tailwind this weekend but I'd happily spend all day riding that hillside. As we'd seen what the stages offered we warmed up on stage 2 then faced the onslaught of the steep stage 1. After getting the bottom grinning like mad men we felt another run of 1 would be a good idea, it was an easy climb and feeling confident of what was approaching would definitely help. More slip sliding later and we considered practicing the other stages, Phil and I had ridden stage 3 at round 1 and after hearing how tough the climb was we recommended leaving that to race it blind and save some energy. The loop up to stage 4 was relatively quick so we got that out the way and back to the cafe to warm up. The weather hadn't been too bad, it wasn't too cold and there wasn't much rain – mainly the annoying drizzly mist which blurs up glasses and goggles to make them useless!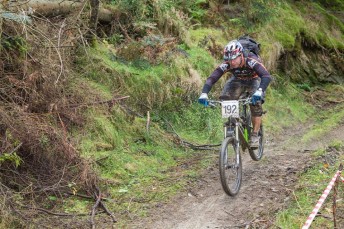 The afternoon racing went off without too much issue, I got caught out by a tree stump on stage 3 and Phil seemed to have trouble staying on the bike! But we were soon finished and while Gary and Rich went to relax in their room at the Drovers Rest, Phil, Leon and I got the tents up and were happy to see we weren't the only ones taking that option. A quick shower and then down to the Drovers Rest for the first pint and put the order in for our free pasta. I've said it before but it's a great idea getting everyone together in the evening with free food and a chance to talk to others about the days racing. A few pints later and it was an early night for all. Great idea number 2 was stopping at the Drovers Rest in the morning for a full welsh breakfast, it tasted delicious and set you up perfectly for the day. No cold cereal in the tent this time!
Off to Coed Trallwym and thanks to a free bike wash used several times the day before we were ready to ride straight away. We followed the stages in order but others decided to get stage 3 done and the nasty climb out the way on fresh legs – a good idea that one. The day went well again for all MB Swindoners, a smattering of crashes but nothing serious – oh and Gary getting into a sheep traffic jam part way down stage 2!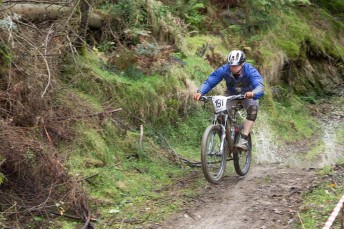 The weather had been good for Sunday which was a relief, the stages had been immense fun we really couldn't have asked for too much more.
Neil the organiser had spent quite a bit of time in the last few weeks crafting some brilliant fresh cut descents only for the good old welsh rain to wash them down the hill so they've been put on hold for 2015 and the stages for this round looked like this:
Stage 1 – A quick sprint into a gently descending section you could flow and hold a steady speed with little pedalling, over a couple of rock/wood gardens (photos tell a thousand words!). Straight line a chicken run which was quicker than the difficult drop line and then it was into the steeps, I think you had to accept your rear would be sliding everywhere and just concentrate on holding a line with the front. Even that rarely worked and 2 wheeled drifts were common place. Over some wooden bridges, up and down a tricky bus stop, across a fireroad and down a steep shale slope to gain speed into the long final straight which had boggy rock gardens, jumps, stumps and ruts – hold your nerve, stay off the brakes and go straight!
On Sunday due to the steep hillside becoming claggy the stage was re-routed with some long straights. I preferred the corners as they kept your speed down and conditions of the new track weren't much better.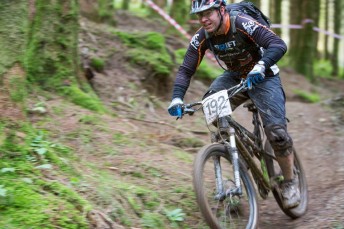 Stage 2 – Was all gravelly trail centre surface. A few slippery flat corners to lose your confidence, a 100m sprint to lose your lungs and then some long fast straights with switch backs, jumps and rollers. The bottom was more slippery flat corners which were in sight of the finish. Perfect for your waiting mates to cheer when you washed out!
Stage 3 – A repeat from round 1, the first long straight had a couple s-bend kinks to wake you up and catch you out, a super fast bumpy fireroad descent to make your bike skip around under you. A bit of trail centre singletrack which spat you out into a short sharp climb – just long enough to really make the legs and lungs burn. More gravel singletrack and down a few steep slopes across the finish.
Stage 4 – The blue trail centre descent where you needed to have confidence on the route, foliage meant that corners could come out from nowhere and braking at the wrong point would sap your speed for some short up slopes. The middle had a good section where you could pick up speed and was great fun and the singletrack carried on right to the finish. A deceivingly pedally stage that one.
Stage 5 – Kept secret till Sunday afternoon, Neil had spent several days chainsawing through fallen trees and clearing this old route. And we were glad he did! A long first straight with a load of bumpy ruts definitely tested your nerve, a fire road sprint and then the whole bottom stage was slightly more gentle than stage 1 but much in the same vein. The mud creating a lack of grip that was always entertaining down some fast straights to the finish.
After fine tuning the races this year 2015 promises to be a real cracker and by far and away the best value enduro race series out there.
(CAUTION: Video contains occasional swearage and childish giggling – Ed)
Results:
Overall, James came 7th and Phil got a great 5th place collecting three 3rd places on the Sunday stages! Great work.
Thanks to Neil at Red Kite events and the rest of our sponsors, DriftRiding.co.uk, High 5, Hargroves Cycles and Fibrax for helping us out this year!