Waking up to my alarm at stupid o'clock on a Saturday morning, a grin spreads across my face. It's Redkite Enduro round 2 time!
A quick check over that the essentials were packed the night before (how organised am I?) –then porridge for breakfast and a gallon of coffee for the journey, KISS FM being the radio station of choice for this particular drive.
Arriving nice and early, I didn't have much to do. James had stayed the previous night along with Jerome & Gary Lee. As I was lodging in James' tent again, all I had to do was throw in a sleeping bag and pillow. Except I had forgotten my pillow. Again!
I signed in, stuck a number board on, then got slightly distracted by the coffee and toast facilities and preceded to start on breakfast number 2. Suitably stuffed, it was time to get clued up and check the map to see where we were going. Not that I really knew where we were, but I stared at the map for a bit anyway.
Practice – Stage 1
There were two stages to practice in the morning, then timed runs on them from 2pm. Simple enough. We were allowed to drive to the start of stage 1, so a quick check of the bike followed. I carried out the standard pre-ride mountain bike check: ride round a bit, change gear a few times, poke the tyres, pull a skid, try and pull a wheelie (nope, still crap at that) before slinging it into the back of James' wagon.
Practice went well. Stage 1 started off fairly level, in dense forest. Then a bit of stump swerving followed, before dropping onto a bedrock track for some full-beans rock skipping. Then came a few tight corners linking more flat-out rocky sections, before a nice freshly cut section dropped you onto the finish.
Practice – Stage 2
Stage 2 was similar but totally different! Lots of tree weaving and stump swerving for the first half, followed by a short fireroad sprint, motocross style whoops, and then a flat-out rutted section with deep gulleys on the side.
Two things became apparent quite quickly; my recently replaced chain was too long, and my brakes were !*&#! (Translation: less effective than I had hoped for).
We were all more than happy with the stages, and spent the next few hours practicing various sections and socialising in the glorious sunshine that we had been blessed with.
Timed Runs
The timed runs went a bit differently (well, not for James, who put in great runs down both stages). But somehow I managed to get crossed up on some roots at the start of stage 1 and exited via the front door. Extra time was lost straightening the bars out. Then on the final fast, rutted section on stage 2, a momentary lapse of concentration and I was in a deep rut sliding on my side, minus the bike.
Later that evening…
With the days racing behind us, we decided that we would have a sneak peek at the three extra stages for Sunday. But 45 mins in to the transition and going solidly uphill with no signs of a let-up, we did an about turn and headed back to the camp. It may or may not have been my idea to turn around, but everyone was pleased when we reached the camp to be greeted by ice cold beer. Spending all day out on the bike in sweltering conditions and then being greeted with ice cold beer? Amazing.
After a blissful hot shower and a clean pair of pants, it was off to the Drovers Rest for the carb-loading pasta party. As the beer flowed, so did the stories of the day's racing. Out on the terrace decking overlooking the river, a big screen was setup showing Peaty's 'Won't back down'; a fine way to spend the evening. It had been a long day and I was shattered after all the riding, so it was not long before I was doing my best nodding dog impression and decided to retire to my airbed, leaving the rest of the guys to carry the party on.
Sunday
Waking up to more sunshine, feeling suitably refreshed, it was time to sort out the two niggling issues I'd had with the bike yesterday: take a link out of the chain, and swap the pads. I had been running Superstar Components sintered pads front and back, mainly for economic reasons, but they are a bit noisy! They last for ages which are great, but they don't have the progressiveness that I like. It goes a bit like this: grab lever a bit, brake squeals. Bit harder, squeals louder. Harder again, louder still, start slowing down. Grab a handful, noise stops, wheel locks up.
So out with the Superstar pads, in with some of Fibrax's Organic long life pads. A few runs up and down the road and they had bedded in nicely. Once bedded in, they were lovely and quiet. Now nobody could hear when I was dragging the brakes!
So back to the racing. Today we had 5 stages of racing spread out over 40km of terrain. Filling the bladder to the top with High5 Energy source, it was time to swing a leg over my trusty steed and get moving. I made some friends and had some good banter with some Welsh lads on the 8km climb to stage 1. Stages 1 and 2 were the same as yesterday.
The racing begins
I was determined to go all out and make up the lost time from riding like a clown yesterday, but with added focus on staying rubber side down. The first stage was good, felt fast, nice and clean with no major mistakes. Waiting in the queue at the start of stage 2, I turned to see Jerome performing surgery on his upturned bike again. A better performance today on stage 2 – mainly by staying out of the ruts this time – gave me another clean stage with no concerns.
Off to stage 3: it was a big transition, with huge panoramic views. Wishing I had packed a camera, we passed some guys on motorbikes doing their own enduro.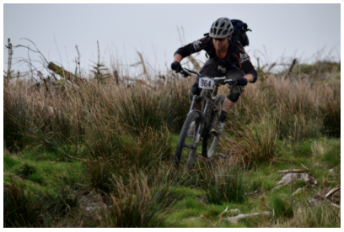 Stage 3 was a pedal fest, with plenty of wide, loose corners to slide around. There was a fast bedrock section and if you stayed off the brakes and kept it flat out, the drops and crests appeared blind. I'll be honest; I bottled it on one. On the approach it looked huge, like a jump into the abyss or something. I dropped the anchor, shrugged off a load of speed and rolled it. Better to be safe than sorry (did I really just say that?). I then had to spend the next 20 seconds beasting my legs to get back up to speed. The stage finished with more loose corners, one especially tight as it dropped onto a fireroad and switched back on itself, then a long sprint to finish.
On the transition to stage 4, we passed a hill where it looked like the face had been quarried at some point. Loads of loose slate and really steep, it was too tempting to just ride past. So that kept us entertained for the next hour, hiking up just to ride back down!
Stage 4 was another fast and loose one, with the bonus of meeting Tom Stickland's mum, who was marshalling the finish. Hi Tom's Mum!
And so, on to the final stage! There were rumours circulating about stage 5 that went along the lines of 'A massive rut on the steepest part, but lines for those that spot them'. Well, James & I decided to have a walk down and take a look. I'm really glad we did, as the lines were there to avoid the rut, but riding it blind you would struggle to see them, as Jerome later demonstrated. He went in blind, hit the rut and went straight over the bars.
On the race run, I knew where I wanted to be, stayed on line, missed the rut totally and carried some good speed into the flatter second half. A good sprint saw me to the finish of the stage, and indeed the finish of the race.
Being in such good spirits, a bit of messing around was the order for the ride back to base. The obligatory mate's race had us all laughing, with nobody getting near Jerome on the up hills.  A celebratory ice cold post race beer back at base was a fantastic way to finish a great weekend of racing.
Words of Wisdom
There were a few things learnt over the course of the weekend:
Don't get dehydrated; you fall off your bike more. I totally underestimated my fluid intake on the Saturday; thankfully James is much more prepared than me!
It doesn't matter if you have a clutch rear mech & chain guide, if your chain is too long it will still make a hell of a racket.
Fibrax Organic long life pads are the new favourites. Their progressiveness is just awesome!
At every race there should be ice cold celebratory beer when you finish.
So after 2 days of racing, 7 stages and approximately 60km, the final standings were: Phil 9th and James 11th. In a field as stacked as this, we were both happy with that.
So another great weekend in Llanwrtyd Wells with Redkite Events/Empire Cycles. They seem to have got it sorted there, fantastic trails, great organisation, and did I mention ice cold beer at the finish? Everything just adds up to an amazing experience. We love it. Round 3 of the enduro series – the final round – is on 25/26th October and we can't wait! Why not come and join us? The event details are up on the MB Swindon calendar. See you there.
 www.hargrovescycles.co.uk
www.redkite-events.co.uk
www.driftriding.co.uk
www.highfive.co.uk
www.fibrax.com
www.mbswindon.co.uk