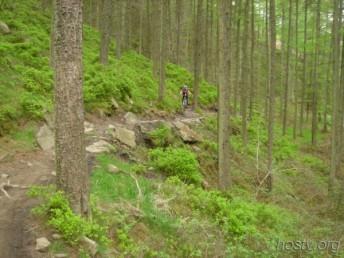 A long time ago in a forest far, far away, our mountain biking forefathers told tales of a mythical trail. A trail so perfectly sculpted and feature-packed it drove some to give up the sport of mountain biking altogether as it would never be that good again.
Others refused to leave and are rumoured to be riding that original trail non-stop to this day. If you're really quiet in the forest you can hear the low level drone of a Daves Chain Device and the unmistakable hum of v brake rubber blocks on rims as these ghostly figures ride their everlasting laps. When asked for evidence of such tall stories we were told, "The trail temporarily closed in 2010 for forestry work," yet even now, the best part of 4 years on, there is nothing to suggest such a trail exists…
Until now!
That trail was called Penhydd, and like the phoenix rising from the ashes, it has been born again. How much of that original, legendary trail is still in situ is anyone's guess but it wouldn't be right if we didn't go and have a look for ourselves. So that's what we're going to do!
After meeting at the forest visitor centre we'll spend the morning on Penhydd. Later, there'll be an option for those that fancy it (or have the legs) to ride Y Wal also.