MBSwindon North Wales Trip August 2010
This was a four day trip to North Wales.
Route maps Google Map|OS Map|GPX file.
---
Friday 27th Aug 2010
Most people arrived at the Llyn Gwynan camp site near Beddgelert on Friday. An evening trip was made to Coed-y-Brenin for a ride. We had 12 happy campers by midnight.
Sat 28th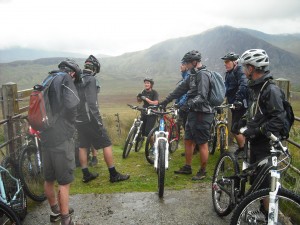 We had a 30 mile epic ride planned. This combined the well known Llyn Cowlyd killer loop with the Marin Trail at Betws-y-coed. See Google map / Bikely map for details. It claims 56km and 1745m of ascent. After some serious sausage sandwich action, some general faffing and then some van starting issues we were on the bikes by 11am. The route began in the car park behind the Pinnacle Cafe at Capel Curig. It had been raining off and on most of the morning and this turned harder as we walked up through knee deep boggy sections on the hill up to the reservoir. Mechanically things didn't go too well, with a puncture within quarter of an hour of starting. Then we had a rider whose legs were turning but the wheels were not. He'd got a permanent freewheel, which isn't much use on a hilly ride. We tried using cable ties to connect the hub to the wheel, but this was a much use as a chocolate teapot and lasted all of 10 seconds before failing.
Luckily it was all downhill back to the car park, so we sent Chris off to go and fix his bike.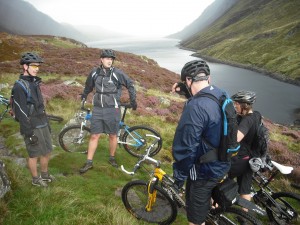 After a major road descent we made it to the Glanrafon Cafe at Trefriw for about 2pm.
In the afternoon we did the Marin trail. This starts with a brutal fire road ascent that a few people commented on. Half way round the trail most opted to do a road return to the start point, leaving three of us to madly try and complete the original loop. This involved hammering the rest of the Marin trail as quickly as possible. It seemed a lot better that way. We then had a big climb up lanes to Llyn Geirionydd, then a harsh fire road climb and descent to the next valley. We hit the bottom of the final ascent at 7pm. This was a walk up 200m of mountain path. We were rewarded the other side with a descent back to the Capel Curig. The route gave us 35 miles of riding.
We now had three riders with bikes, one inflatable boat and one car. We managed to fit all of that into a Mk3 Golf estate.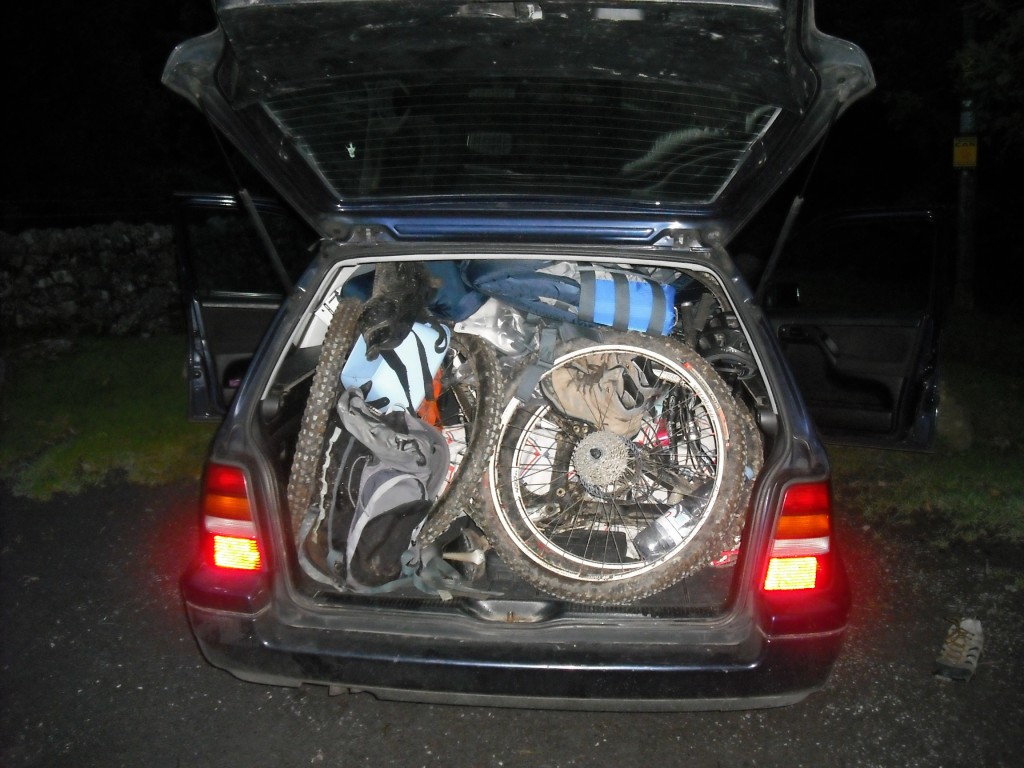 Then we went to the pub. In an area that has more than its fair share of ropey pubs with a "take it or leave it" attitude then the Bryn Trych offers a beacon of hope. Tripadvisor reviews. It's not the cheapest, but the portion size is generous and I've never left feeling hungry. They've been doing a lot of renovation work over the last few years. Good company, beer and food.
Sun 29th
The weather hadn't improved on Sunday, so we started the day with a trip to the legendary Pete's Eats in Llanberis for breakfast.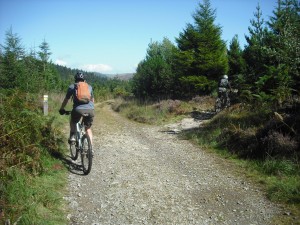 In the afternoon five of us went to Coed-y-Brenin whilst the others walked up Snowdon. We rode The Beast (of Brenin) trail. This combines the MBR route with most of Dragon's Back. The Dragon's Back is 30km, whilst the Beast is 38km. We cut out the 6km pointless loop section (Google Map/Bikely map). This then gave us 32km of technical trail to enjoy.
I noticed that there had been further improvements to the trail since my last visit two years previously. A few new berms, a bit more singletrack (Beefy section) and some decent sized rock steps on the MBR (Abel section) route all made the visit worth it. I've always been a bit saddened that the original steep rock slab section was replaced with a swoopy section (Gomez). I never found out why. Maybe it was sustainability, or maybe it was health and safety stuff. The route was just over 18 miles (30km), taking out total to 53 miles so far.
We had a big feed at the bungalow cafe half way round and then paid another visit to the Bryn Tyrch.
Mon 30th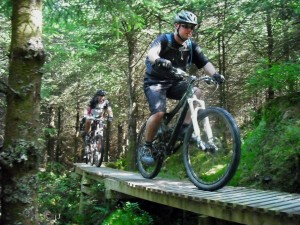 We visited a favourite trail of mine: Penmachno (Bikely map). The rain had finally gone, giving us Blue skies and sunlight. We rode both loops, giving us another 18 miles (30km) of decent trail. Everyone agreed that the trail was far more fun than the Marin trail.
After that we all had to return to the mundane reality of our sad little lives back in Swindon.
---