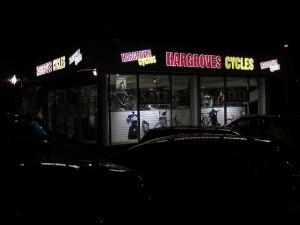 Hargroves Cycles will be holding a clearance event on the 28th and 29th of April at the Swindon shop. Opening times are Saturday 9 am – 5.30pm
and Sunday 10am – 4pm.
This event will have a good selection of non perfect bikes and old models at fantastic prices.
There will be a buy two get one free event on a massive selection of clothing.
Clearance shoes from 2010 at fantastic prices.
Hargroves will also be holding some maintainance courses during the afternoon of the 29th: 4 courses throughout the day. There will be two road courses and two mtb courses. Report from maintenance course in 2011.
There's also the possibility of a suspension set up course if there's enough interest.
If you're interested in the courses then please contact us.
Facebook event page. Please state your preference out of: 11am, 12:30pm, 2pm, 3pm.