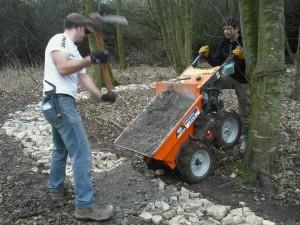 We did a lot in 2011 – see the build diary round up.
The plan for early 2012 is to finish the new triangle section (bottom right in the map below). This will add around 950m of new trail including two new bridges, some rock features, an optional elevated wood section and a load of swoopy trail.
On this build day we'll be aiming to finish off the entrance or exit of the new section. We'll be using the Muck Truck and Landrover to shift material. We want it all finished in time for our trail open day in April.
---
A short history of the triangle.
Back in 2010 there was a 1km loop of mud in the triangle. We'd inherited this when we took over running the trail. The loop was accessed from ladder lane. There were three sections of woodwork in it. The section was not liked due to its extremely twisty nature. Fatigue and boredom set in for most riders before they'd finished it.
The route was closed off in October 2010 (this news items claims it would be open for spring 2011. It will be open by spring 2012. Good things are worth waiting for and we've sorted out a lot of trail in that year.