This was a fund raising social night. The Bombay Lounge restaurant at (Steve) Peatmoor and Swindon Link magazine offer community groups, charities and good causes the chance to raise money whilst enjoying a great curry.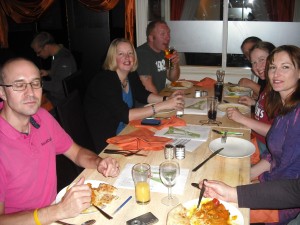 Lounge owner Hanif Robani committed all of his profits on the night from the restaurant, take-aways and home deliveries to MBSwindon Mountain Bike Club.
The food took the form of an all you could eat buffet. There was plenty of beer drinking going on too.
Local businesses had very generously donated prizes for our raffle. Suspense was high – we had some high value items available. We ran it as a double draw: first a name was drawn out of a hat and then the winner picked a ticket to determine their prize. Everyone wanted to know who was going to win the Bressner Photon Torpedo head torch.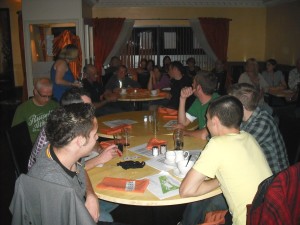 Things got off to a good start when the guys from Hargroves Cycles drew the special bonus prize (a pair of DIY fingerless gloves that were found in the trail car park). We're going to keep a keen eye on the next deal of the week to make sure the gloves don't come back. We worked through the prizes until the headtorch was still not claimed with only a few prizes to go. Simon Morgan thought he had it in the bag and ended up with a free MBSwindon subscription (this way we can guarantee at least one member next year). His words were "I paid £15 for a lousy £8 club subscription. How do I get my money back?". As luck would have it Simon's name was drawn again and this time he scooped the torch.