We'd made great progress on the new triangle entrance on the previous day. Our plan for the day was to finish the rock path off and then take a look at the exit route.
When Phil and myself arrived at 10:15 (late, tut tut) we found Jez there ready with the power barrow plus a new recruit: Stewart/Stuart. It's very encouraging when new people come to help and get involved with the project.
Phil and Jez did some rock mining whilst Stewart/Stuart and myself carried on with the rock path. I remembered why I'd felt "a bit tired" that morning: moving rocks is hard physical work. Stewart/Stuart was well in his element and we made great progress on the path.
Gary Yates arrived to do some rock mining. When I visited to help move a big slab then the whole mine was dug out and a large stack of slabs and rocks was available. This gave us enough material to build some rock steps with.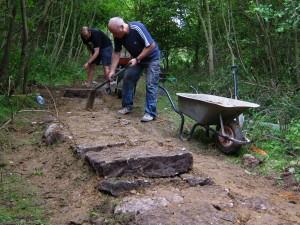 We were joined by Andy Matthews. The group finished off the rock path and built up three rock steps. A few barrow loads of mud were shipped in to build up the steps. Towards the late afternoon then we'd got the rock part finished and Andy couldn't help himself and had to bring some gravel in to finish off the steps. We think he's going to do a secret test ride later in the week.
It was quite late in the day but we were keen to do some work on the exit line. A lot of this had already been cleared months (years?) earlier. Phil, Andy, Gary and myself moved all the old branches and debris out of the way. Within an hour we had most of the line clear. We cut out a new path for the connection back onto existing trial. There was a decent sized mound and steep drop which we incorporated into the line. We think this is going to be a fun section of trail.
At 6:30pm we'd done enough and went home feeling pleased with the progress.
It was a year to the day since we first cut the line in this area – build report 15th May 2010.