Bristol Bikefest is one of MBSwindon's big events of the year, a 12-hour team enduro race around the Ashton Court trail in Bristol. While the event does attract some serious teams, it is also a welcoming and friendly event for all levels of rider to try  and the club enters a number of teams of varying abilities and fitness so everyone can get a good experience.
It is, however, hard to decide whether or not to enter an event such as this when you don't know what you are letting yourself in for….
Which is where this 'Recce Ride' comes in.
Simon Oxlade and Jason Rodger are going to go to Ashton Court and take you around the Bikefest track, which is a little different to the signposted trail loop. Along the way we'll be explaining what comes next on the trail, where the start and finish is, changeovers, how the event runs as well as introducing you to the trickier bits of the track and giving tips on how to ride them.
We'll then do a second loop, this time of the signposted trail (which is easier than the race track) and, if there's any energy left in the legs, we'll go for a lap of the Yer Tiz trail in nearby Leigh Woods.
All the trails are Blue graded with the exception of part of the Bikefest loop which is Red.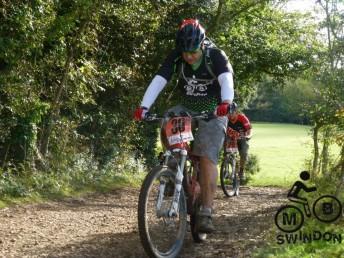 What to expect
Hardpacked gravel surfaces, some mud, some cobblestones, some bare rock and some roots. Three steep, but short climbs, one of which is poorly surfaced. One long fast downhill, which is not technical. Three shorter downhill sections which are more technical, but are not necessarily fast.
What to bring
Camelback/water bottle, some trail snacks, multitool, puncture repair kit/spare tube, pump, helmet, bike!!!
Where to meet?
We'll be meeting at the Ashton Court Golf Course car park, which is accessible from the Gatehouse entry to the estate.
What's the best way to get there?
From Swindon, take the M4 West, then the M5 South. Get off the M5 at J19 Easton-in-Gordano and take the A369 . When you see the sports fields on your right, you are getting close. Go straight on at the traffic lights and, as you drop down the hill, the gatehouse will appear on your right. Turn through the gate house and follow the road, turning right up the hill to the car park.
Alternative scenic route is to go into Bristol and head for Clifton and the Suspension Bridge. Cross the bridge (Toll!) and continue straight on. When the road ends, the Gatehouse is directly in front of you.
Any questions, please ask below and on the event's Facebook page.