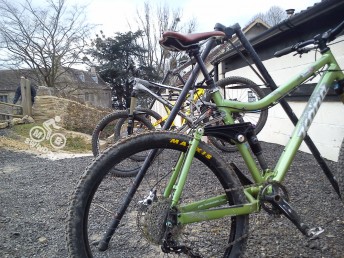 Words and photos by Chris Hopkinson
Ok. Let's get the obvious out of the way straight away. It ain't Bikepark Wales!
To be fair, comparing the two is a bit like comparing Star Wars and Blake's 7, they're both very good at what they do but are worlds apart budget wise. While I imagine many long, hard hours were put into building BPW those hours will have seemed a little easier with over £4 million thrown at it. I've no idea how much money has been sunk into the 417 project although I'd imagine however much it is was a lot harder to come by and all the hurdles and hoops needed to be jumped through will have seemed that little bit harder. While BPW was built with the backing of Cognation and seemingly, a nation of mountain bikers, the 417 project has been born out of mud, sweat and tears and more than likely, the occasional sleepless night. All that said, I can hear the echoes of "it ain't Bikepark Wales" ringing in my ears already from the pessimists and naysayers.
What's it like then?
Well, what's there is very good. The route to the site is easy to follow and on decent roads. Checking in while we were there was quick and painless. The indoor pumptrack is really good and the indoor dirt jumps look like fun if that's your thing. Both of these got little use today, something I can't help but think has more to do with the two tier pricing strategy than anything else.
The café is fairly small but more than adequate. there's a coffee bar at one end while food and soft drinks are dealt with at the other, which should go some way to solving any queueing issues. Food is decent, the burgers went down well. There's plenty of tables and chairs inside but only a couple outside. Something that may be an issue in the summer.
Unfortunately, due to a long spell of bad weather the team have been unable to get the dual slalom, 4X track and outdoor dirt jumps finished and ready for the opening date but they'll come. Toilet needs are currently dealt with by three portaloos. Not ideal but we're promised a more permanent solution is on the way once the lack of any sewers on site is dealt with.
And so to the downhill lines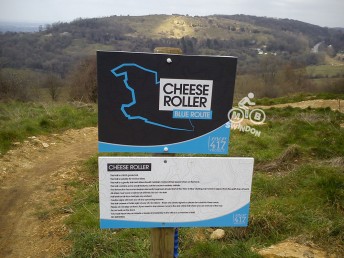 Which, let's face it, is what most of us are really interested in. They number three (at the moment, but more on that later).
Blue – Cheese Roller
Red – Igneous (although I spent all day calling it Ingenious)
Black – Super Fly.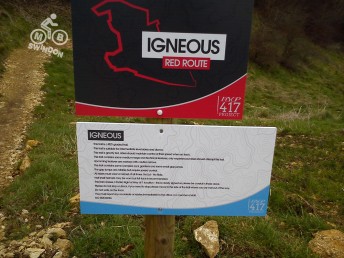 The blue and red lines are definitely at the higher end of their respective gradings. Although the surface is still a little lose on Cheese Roller the potential for fun is there as is a good share of airtime for those that want it. Igneous commands your attention. There's some nice steep stuff and more than enough rock gardens and drop offs to bite you in the ass should you take your eye off the ball.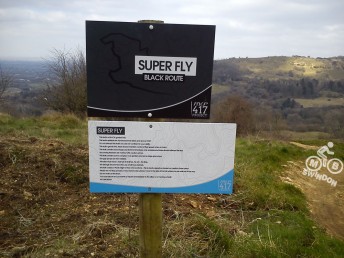 Both red and blue finish with their own sets of gaps, doubles and rollers which can be taken in the air or with rubber on the ground. Super Fly is the usual black affair. Mainly unarmoured with some big features that need some commitment that are already showing signs of ride around lines.
Future downhill runs
They've apparently only used 45 acres of the 100 acres available on the site. The idea is to add a further three downhill lines and then look at the possibility of interlinking with further optional lines, giving a big variety of choice. Those of us who've been in on the story from the early days will have an idea of the issues with planning this project has had and it seems that has been the main factor in there only being three downhill lines to start with. From a look around and a brief chat with the manager there seems to be more than enough space to expand sideways and a little further up the hill.
The uplift service
The uplift service itself is as slick as you'd expect from the FlyUp team, we never had to wait more than a couple of minutes for a vehicle. There's a bit of a push up to the start of the trails from where they drop you off but hey, suck it up buttercup!
All the staff were friendly and helpful, which is as much as you can ask for. This was only the second day of business and no doubt there'll be a few teething problems to sort out along the way. All in all we enjoyed the day out, although it'll be much more enjoyable with a wider choice of runs and the option of a ride down the dual slalom and 4X tracks when they're ready.
Looking forward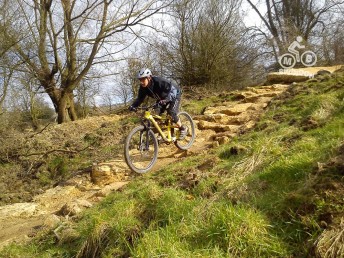 The one thing that's lacking is a bit of atmosphere around the place. This will come eventually and will no doubt come from the regular local visitors but it just feels a little soulless at the moment. I'd certainly do another day trip sometime but for me, being only half an hour or so away, I can see it being a midweek summer evening kind of place. I can see myself sat at the top of the hill on a Thursday night watching the sun set over the welsh mountains in the distance just before launching down my final and best run of the day, finishing off with a brew and a piece of cake and possibly a pint in the pub down the road.
A massive well done to the FlyUp team, I'm sure the 417 Project will be a great addition to the local riding scene. We all know how much hard work it's taken to get to this point and with a bit of momentum behind it there'll be a rosy future ahead and I look forward to seeing it unfold. Now it's down to us local riders to get on board and support the venture.
Find out more