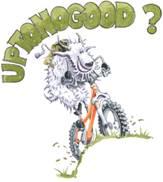 The "Uptonogood?" is a mountain bike event for families and experienced bikers alike, conceived to raise money for Upton Village amenities as well as to introduce people to the fantastic riding available in the area.
The event (in its second year) starts and finishes in the village of Upton (nr Didcot), South Oxfordshire and includes 5, 12, 25 and 45 mile routes catering for all ages and abilities. Almost entirely off-road, the routes wind their way through the beautiful North Wessex Downs, a designated Area of Outstanding Natural Beauty and encompass the Ridgeway and surrounding Bridleways.
The 5 mile "little wheels" ride is intended for families with young budding cyclists.  Suitable for bike seats, tagalongs, and the smaller wheel, the route is predominantly flat but does consist of some uneven ground and includes a short downhill section at the end.
The 12 mile family ride is intended for the families with older children or those simply looking for a shorter ride.
The 25 mile leisure ride includes some of the best riding in the area with beautiful single track and exhilarating descents making the effort very worthwhile.
The 45 mile endurance ride is for experienced riders wanting a full day in the saddle.  It starts with the 25 mile route west of Upton and continues with a further 20 mile circuit to the east with some rewarding trails for the fit and hardy.
In addition to the riding, this year offers a climbing wall, beer tent, bouncy castle, BBQ, Tea and fantastic homemade cakes and a vintage bike display. There will also be a party atmosphere after the event at the George and Dragon (in Upton), with live music and hog roast late into the night.
Camping is also available on Friday and Saturday nights.  In 2010 we attracted just short of 300 cyclists raising £3000 for Upton Village Hall and a further £500 for Blewbury Primary School and £250 for Didcot Air Cadets. This year we hope for 500+ riders and intend to distribute funds raised to the "Upton Play Space" project, Blewbury School, Didcot Air Cadets and Upton's Methodist Hall refurbishment.
Upton lies below the Ridgeway on the A417, south of Didcot and is easily accessible from the A34 via the Chiltern Junction (Northbound) or Milton Junction (Southbound).
For more details visit www.uptonogood.org.uk